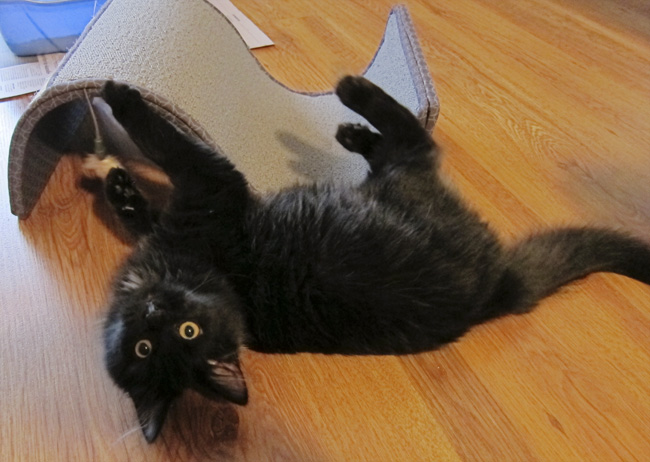 Once upon a time a kindly old couple longed for a new kitten.  They had the perfect home, a cozy cottage with lace-curtained windows, lots of sleeping nooks and interesting things to look at.  The couple went to the animal shelter.  The first kitten that ran over was all black with long, fluffy fur.  He fit in one hand.  Yes, they said, instantly besotted, he's ours.  We'll name him Atticus.  He'll be a dignified cat.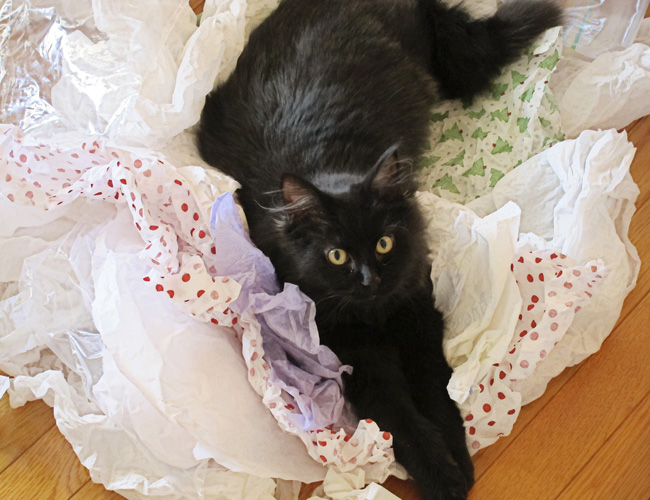 The shelter said Atticus was four months old, had been found as a weanling, and was part-Persian.  They gladly turned him over to the kindly old couple.  A little too gladly, the old woman thought.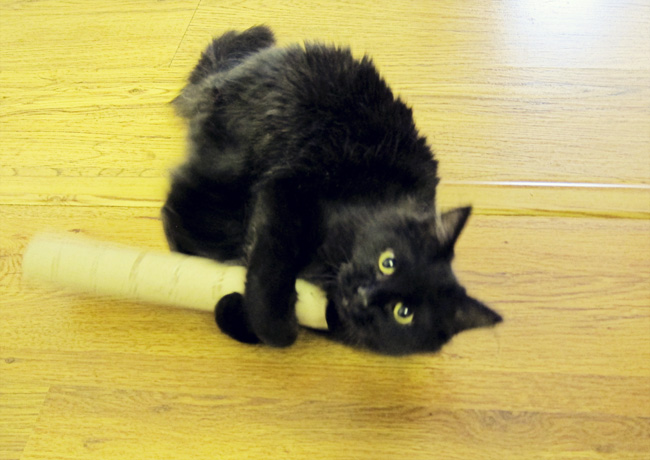 Atticus set one paw in the cozy cottage and took off.  He ran, bounced, and jumped for two solid weeks.  He never walked, never rounded a corner without sliding into a 180 degree skid.  "That's what walls are for," the kindly old man said indulgently.  Less enchanted, the old woman said, "He's part-Persian and part Tasmanian devil."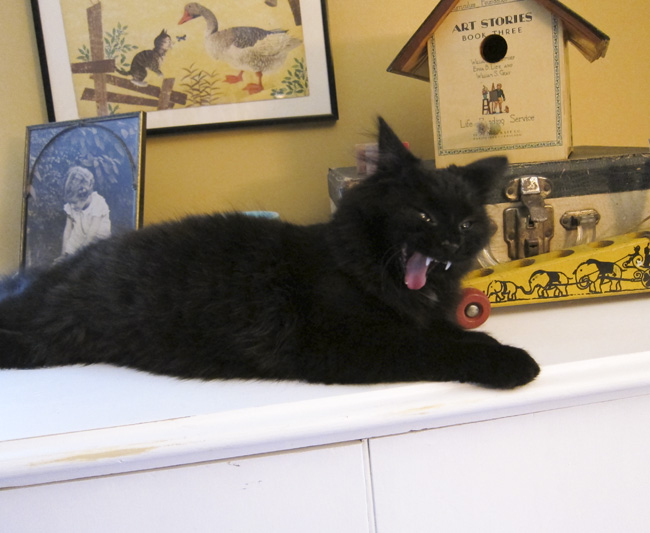 Although well-fed at the shelter, Atticus had shared a "condo" with three other cats (who were thrilled to see the back of him) and there was competition at the food dish.  In his new house, he couldn't get enough to eat.  He ate everything, much of it stolen.  Bread.  Sauerkraut.  Green beans.  Tomato juice.  Black coffee!  The old woman had a weakness for sweets.  Atticus developed the same craving.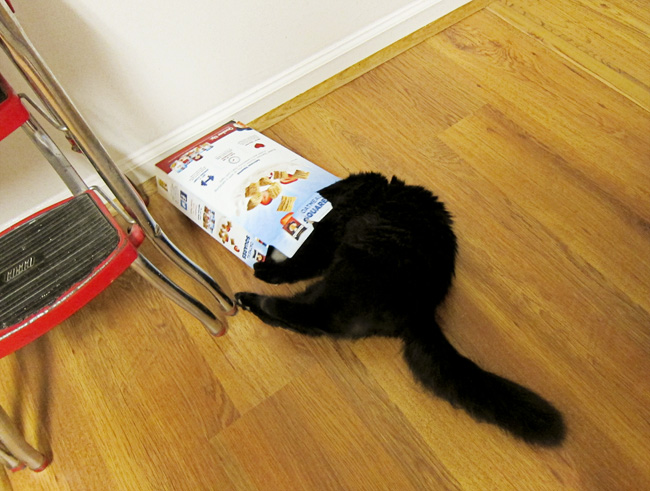 The old couple (the kindliness was wearing off) stood at mealtime with plates held high or with Atticus in another room.  Every morsel of food had to be stowed in chew-proof containers.  It was like camping in Yellowstone, with a four-pound black beast on the loose.  Like Yellowstone's bears, Atticus got in the garbage can.  He didn't tip it over, but vaulted into it. The old woman got tired of finding the cat peering up at her like a possum in a burn barrel.  She bought a new trash can with a lid.
Life in the cozy cottage changed.  The lace curtains had to be flipped over the curtain rods.  Those interesting things to look at had to be put away.  The sleeping nooks?  Atticus never even cat-napped.  He was on the go 24/7.  The cranky old couple snuck off to the sleeping nooks, exhausted.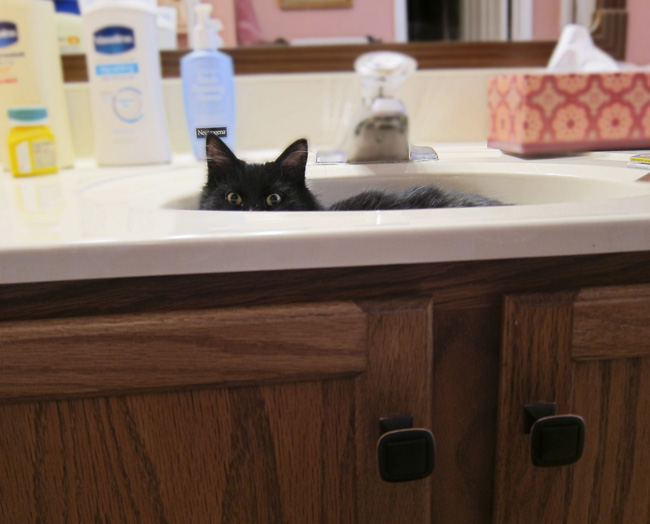 The real battles took place in the bathrooms.  Atticus dearly loved water.  He loved sinks, bathtubs, showers, and especially toilets. After baptism by toilet—the cat's first big surprise—he teetered on the rim and played.  Then he patted his wet little paws on the old woman's face.  "A toilet drinker!" she said in disgust.  They kept the toilet lids down.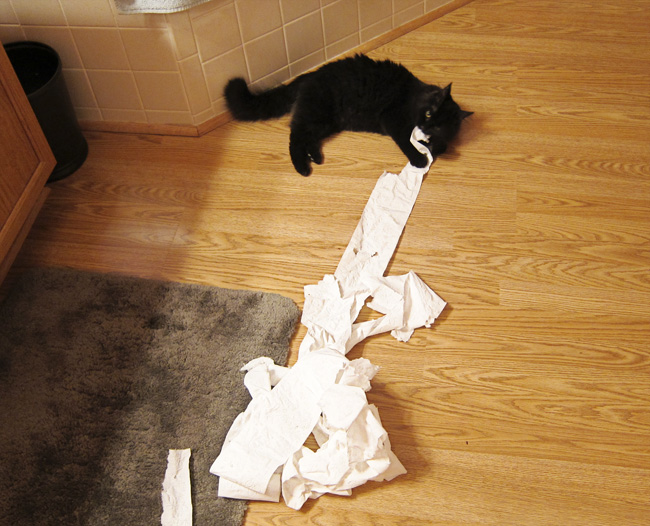 But Atticus found something new to do.  He ripped tissues out of the box, one by one, filling the sinks.  The old couple turned the tissue boxes upside-down.  Whump! Whump! Whump! the old couple heard one evening.  What was that?  Guess who'd learned to unroll toilet paper.  Now they had to keep the bathroom doors closed.  If they forgot . . .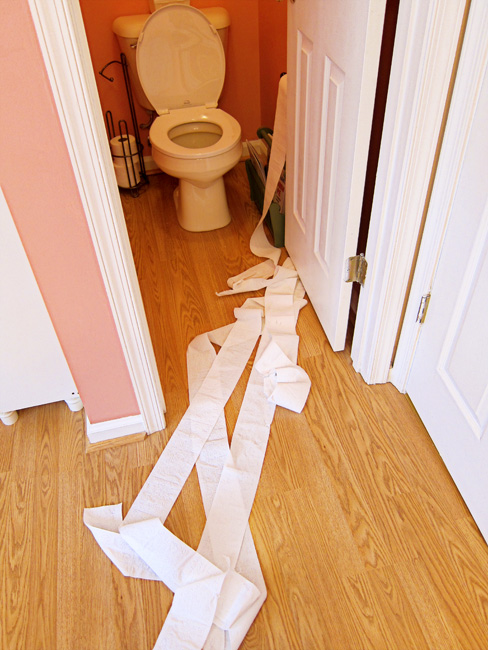 Atticus went on his first vet visit as a four-month-old kitten.  He came out a six-month-old cat.  "Shelters fib," the old woman said knowingly.  "They shave a month off their age to make cats more appealing, like doctoring photos of mail-order brides."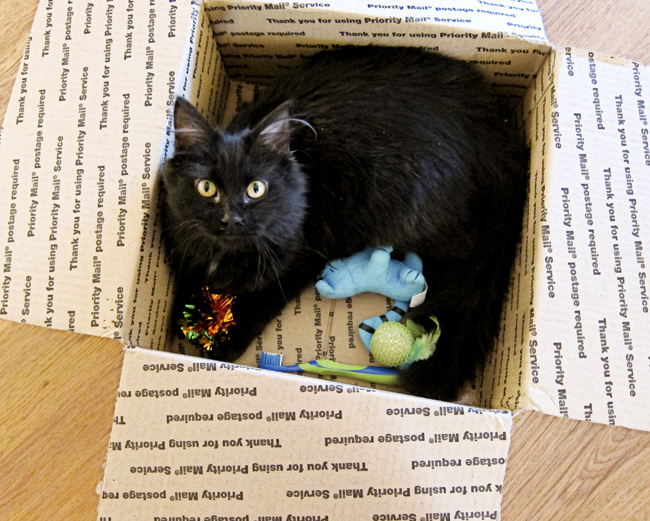 Meanwhile, the wild rumpus continued.  Sounds like horses stampeding in a Western and someone moving furniture echoed all over the cottage.  By the time the old man came home from work, the old woman needed to lie down in a dark room with a cold cloth on her forehead.  "He'll settle down," he told her.  "When?"  She wanted curtains at her windows, her pretty little things on tables again, wanted to eat sitting down, reclaim her bathrooms, and, most of all, enjoy five seconds of privacy.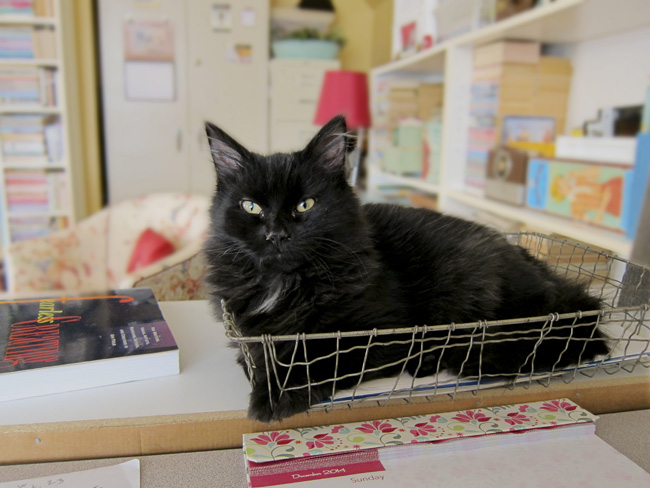 Atticus spent lots of time in the old woman's office, walking on the keyboard, batting the computer mouse, losing pens, and discovering things on the computer the old woman never had, like the time she suddenly had Excel and didn't know how to get it off.
In rare moments, Atticus climbed into her lap and leaned back against her arm.  He looked up at her and purred.  He was a powerful purrer, like a motorboat.  He patted her face with his paws and nipped at her neck.  She realized this unmannered creature saw her as his mother, sister, playmate, and prey, sometimes all at once.  The old woman typed with one hand so she wouldn't disturb the warm young cat asleep in the crook of her arm.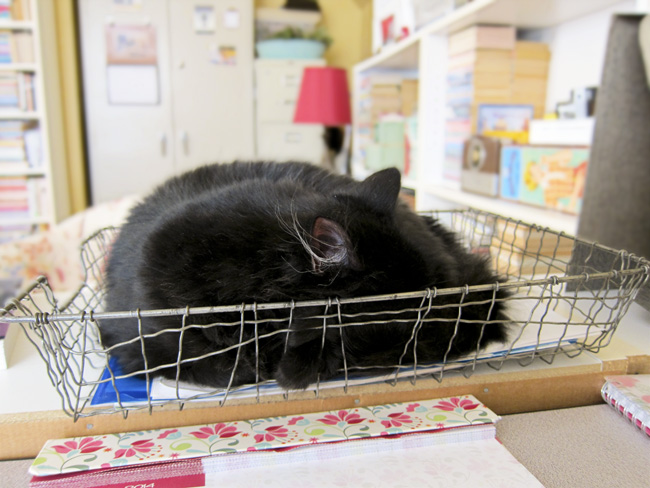 Already he was heavier.  She couldn't hold him in one hand any more.  He was growing fast.  And one day—in the far distant future—he might settle down.  Maybe even suit his dignified name.