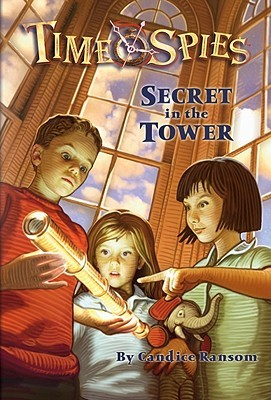 "You have to have series books in your home and library. Well, bypass all the other books out there and take a turn with Time Spies."
—Elizabeth Bird, School Library Journal
By Candice Ransom
Illustrated by Greg Call
Wizards of the Coast
Ages 7 to 10
The Time Spies chapter book series combines fantasy, mystery, and adventure, while highlighting little-known events in American history. Out of print but look for titles in libraries and online book services such as Advanced Book Exchange, Amazon, and Alibris.
Mattie, Alex, and Sophie Chapman are sure that living in a bed and breakfast in the country will be boring.  But then they discover a hidden room, a mysterious postcard, and a magical spyglass that once belonged to Thomas Jefferson. Life will never be boring again!
#1 Secret in the Tower
The Chapman kids find themselves in their own house, during the Revolutionary War.
At the Battle of Yorktown, General George Washington needs their help.
#2 Bones in the Badlands
The kids zoom back to the Wild West in 1898 during the Bone Wars. They must help a dinosaur cowboy keep his fossil discovery a secret.
#3 Giant in the Garden
Sophie's fairy tale book comes to life with an enormous beanstalk in the Chapman's garden. When their cat Winchester climbs into the clouds, the kids must face the giant!
#4 Magician in the Trunk
At the 1893 Chicago World's Fair, the Chapman kids are on a mission to save the struggling magician, Harry Houdini.
#5 Signals in the Sky
It's 1863, and the kids are whisked into the Civil War to aid spies on opposing sides while sending secret messages from signal towers.
#6 Rider in the Night
On Halloween, the Time Spies kids track down the fearsome Headless Horseman and unmask the mystery rider with a trick of their own.
#7 Horses in the Wind
Famous racehorse Seabiscuit is up against the mighty War Admiral. The kids must keep the race fair because others want to ruin Seabiscuit's chances.
#8 Gold in the Hills
During the Klondike Gold Rush, the kids meet writer Jack London and help a young prospector whose prize sled dog is stolen.
#9 Message in the Mountain
In 1934, the sculptor creating Mount Rushmore is in trouble. The great monument may never be finished unless the Times Spies kids step in.
#10 Flames in the City
It's 1812 and war is raging in Washington, D.C. First Lady Dolley Madison and the Time Spies kids must rescue the portrait of George Washington before the nation's capital burns.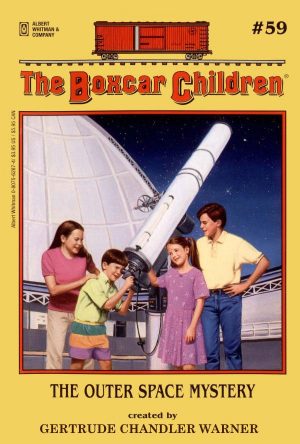 The "Boxcar Children" Series
Orphaned Benny, Violet, Jessie, and Henry used to live alone in a boxcar. Now they have a home with their grandfather. Life is one adventure after another!
The classic series created by Gertrude Chandler Warner continues with the familiar characters in new mysteries. Candice Ransom contributed 18 titles to the series.
#52 The Mystery of the Lost Mine
#55 The Mystery of the Secret Message
#59 The Outer Space Mystery
#63 The Mystery of Peacock Hall
#66 The Panther Mystery
#71 The Ghost Town Mystery
#73 The Gymnastics Mystery
#77 The Mystery of the Wild Ponies
#89 The Mystery of the Star Ruby
#93 The Comic Book Mystery
#97 The Radio Mystery
Special #12 The Mystery of the Black Raven
Special #14 The Homerun Mystery
Special #16 The Mystery of the Screech Owl
Special #17 The Mystery of the Tiger's Eye
The Adventures of Benny and Watch #1, Meet the Boxcar Children
The Adventures of Benny and Watch #2, A Present for Grandfather
The Adventures of Benny and Watch #6, Watch Runs Away