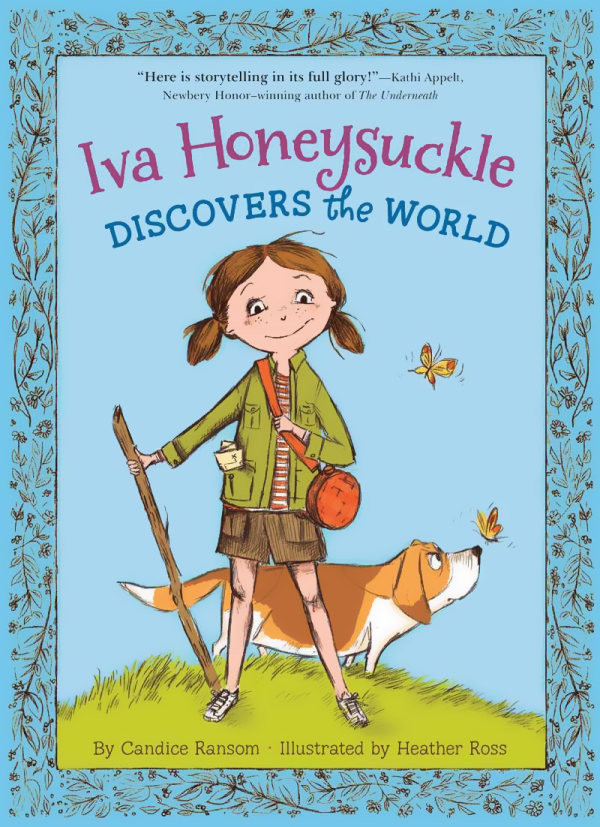 By Candice Ransom
Illustrated by Heather Ross
Disney-Hyperion Books
Ages 7 to 10
ISBN-13: 978-1423131731
Chapter One: The Shame of Iva's Third Grade Year
     Iva Honeycutt was scolding her Cadet Blue crayon when Heaven's shadow fell across the porch.
     "Did I tell you to stand next to Sea Green?" Iva said, not looking up. "You're supposed to be with the blues."
     Heaven loomed over her. Her cousin was hard to ignore.
Eight-year-old Iva Honeycutt is sure that she is destined for greatness. This summer Iva has big plans to make her first great discovery, finding General Braddock's treasure, which was buried somewhere in her town of Uncertain, Virginia. To make sure she's up to the task, she invents a new name for her discoverer self, Iva Honeysuckle. But there are bumps in the road, like a bossy double-first cousin, Heaven, a vague treasure map, and a dog that falls asleep on the job.