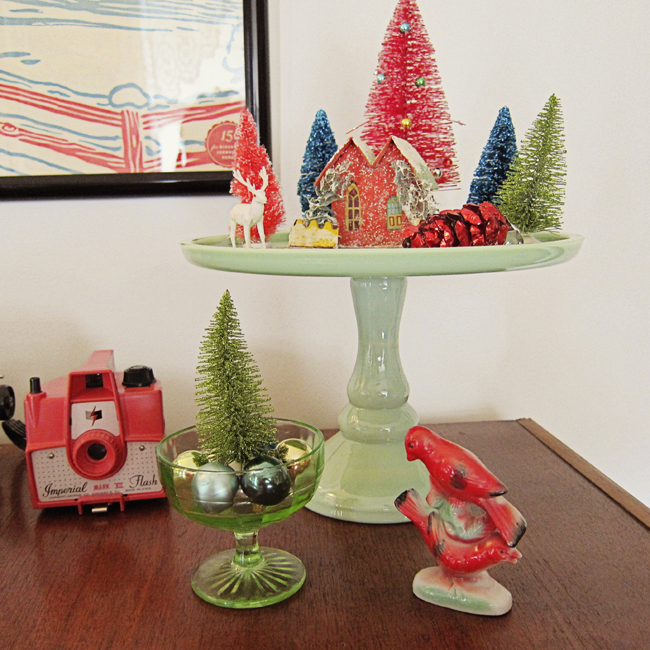 It starts in late October when I pick up special-issue Christmas magazines.  Something fires in my brain.  Visions of cut-out sugar cookies, homemade breads for neighbors, our house turned into a picture-perfect vintage winter wonderland . . .
For Type-A control-freaks like me, Christmas represents the pinnacle of overachievement.  Pull out garland, lights, and mistletoe!  Dig out candles, ornaments, and tinsel!  My head teems with craft projects and design decor.  Never mind I have a ton of work.  Forget that perfection isn't a realistic goal.  On with the show!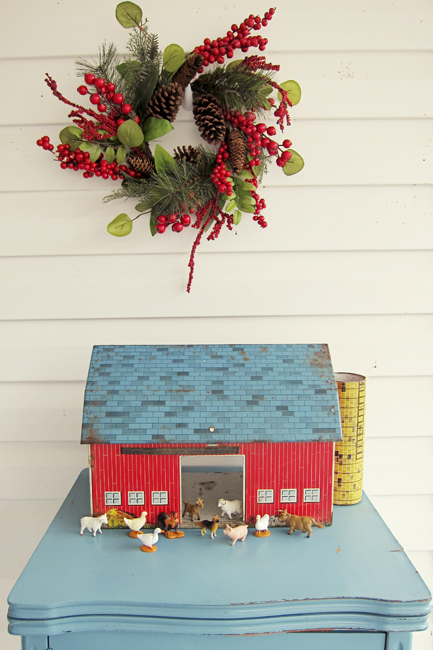 After I've browbeaten my husband to hang the outside lights, I go to town with fake greenery and bead garlands.  No demure holly branches or pine cones for me.  Pile on the glitz!  This year I added a vintage tin barn on our porch as a touch of the unexpected.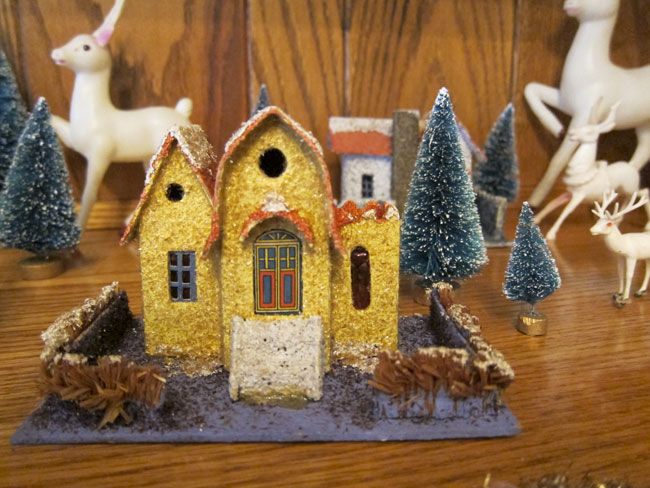 The inside of the house is next.  Rather than install one lavish display (I used to put up a seven-foot tree loaded with Victorian ornaments and would dress fifty bears), I "curate" vignettes of heirloom and vintage decorations.  My mother-in-law's putz village always resides on the hutch in the dining room, but everything else is featured in different displays each year.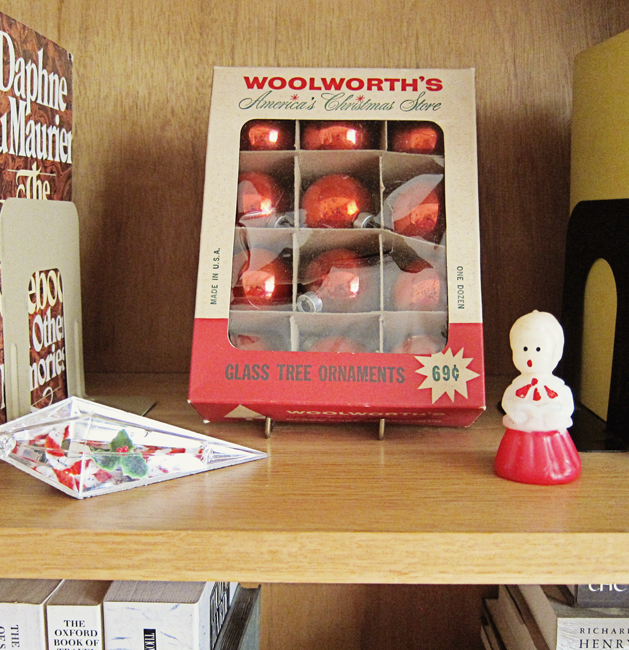 I enjoy unpacking family treasures, aware I'm the final caretaker of these fragile old things.  I honor other people's traditions—my husband's, my stepfather's, my grandparents'.  And of course, my own.
In my memory map, the Christmases-that-actually-were sit at a crossroads with the Christmases-that-never-existed.
~ ~ ~
Each year when I set out my out my tiny plastic nativity, I am ten again, spending a precious dime on my first decoration.  That year, 1962, my stepfather cut down a cedar tree, scraggly and with a "bad" side, from our woods, and nailed two crossed pieces of lumber as a stand.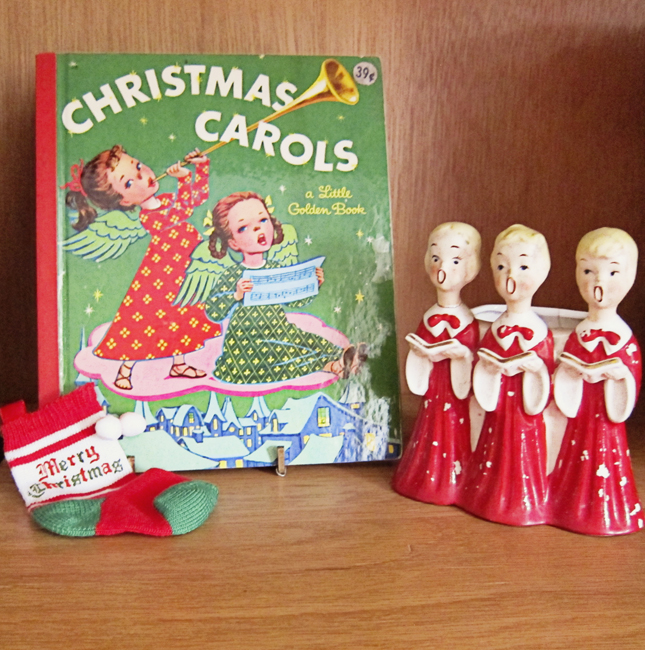 My mother brought boxes of ornaments down from the attic.  I decorated the tree by myself, as I would the rest of my life.  My mother set out the gold-painted turkey carcass sleigh pulled by three mismatched reindeer.  Holiday cards of carolers were Scotch-taped to the mantel.  I wanted more.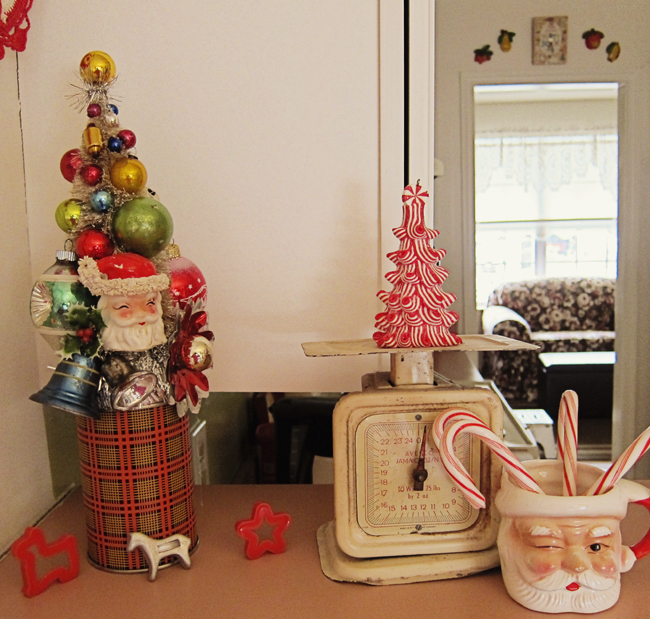 When I grew up, I decided, I'd decorate my whole house.  I'd open all my presents on Christmas Eve, not just the one I was allowed.  Supper would be party food eaten under the tree: cashews and French onion dip with potato chips, sugar cookies and ginger ale punch.  Christmas Eve held all the magic.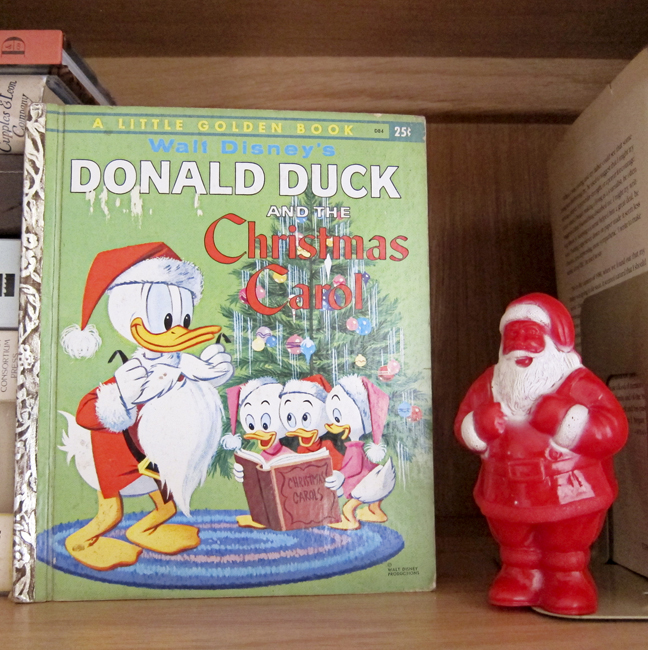 With money from my first job, I bought decorations from Dart Drug, glitter-dusted sugar-plum garlands, candy canes, and pink plastic gumdrops.  At seventeen, I was already into themes.  Since then, I've blasted through several phases: Victorian, early children's book, primitive Americana.  None of them felt genuine.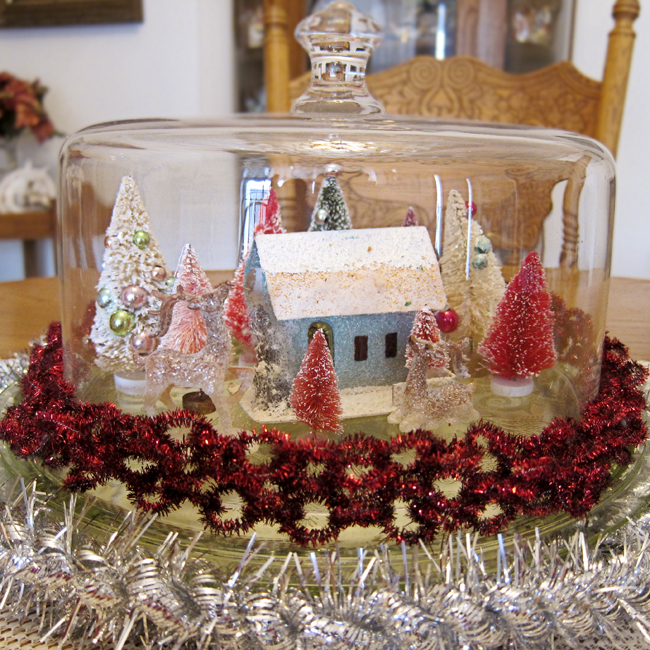 One dusky December afternoon, I went into our woods and climbed a half-fallen oak tree.  I took two package tie-ons shaped like angels from my pocket.  Wrapping the pipe cleaners around my fingers like puppets, I listened to the angels.  I was nine and understood every word they whispered.  It was the only time Christmas ever felt real, that cold afternoon alone in the woods, but not that far from home.
~ ~ ~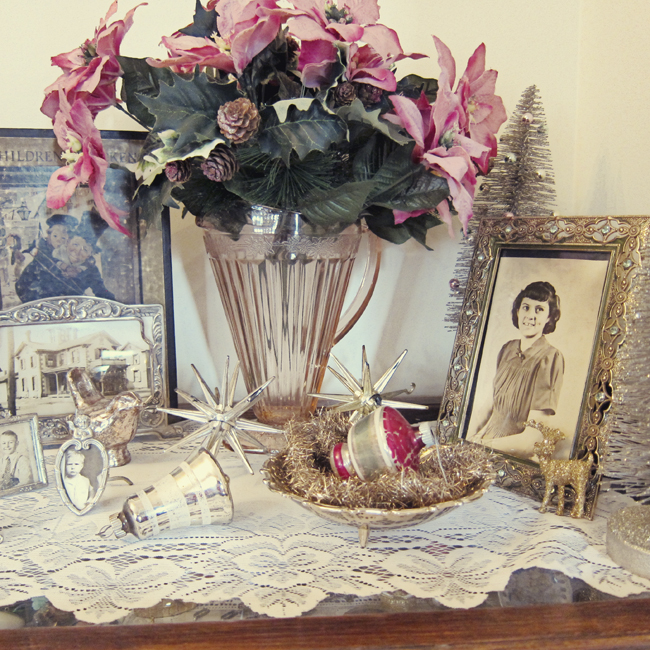 I was 35 when my mother died and wanted nothing to with Christmas.  I bought a small artificial tree and decorated it with miniature Charlie Brown ornaments from Hallmark.  Christmas Eve day, I insisted we go to Williamsburg.  It grew dark and still I had no plans to drive home.  As the Royal Albert outlet store was closing, I rashly purchased a set of bone china, originally priced at $1200, for $200.  I craved beautiful things but they did not bring back my mother.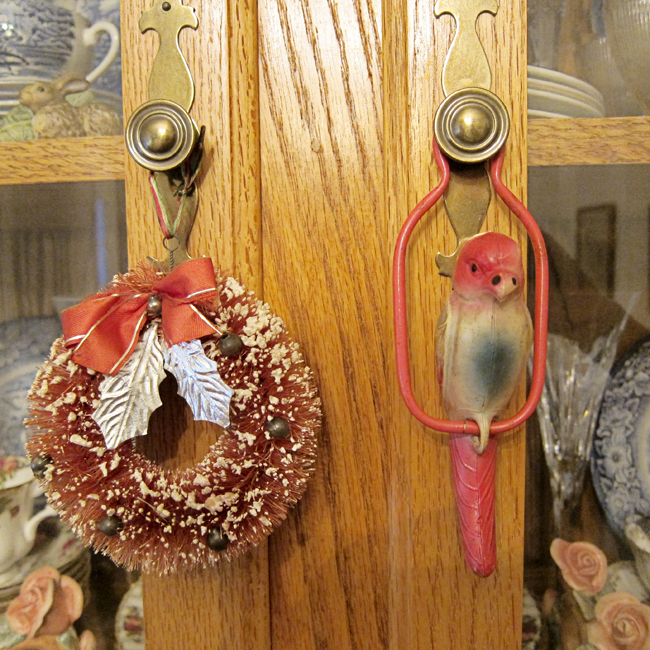 We ate Christmas Eve supper in a Holiday Inn on the way back home.  I glimpsed my reflection in the window, noting the tightness around my mouth.  We used the china exactly once.  And when we moved, I never found the little artificial tree or the Charlie Brown ornaments.  They had vanished.
I learned you cannot run away from Christmas, but for years and years, I dreaded the holiday and raced through the season like I was running through a burning building.
~ ~ ~
Heartburn started in August.  The only way I could cope with Christmas was to bury it in elaborate decorations and cookie exchanges with people I barely knew and rich lunches in restaurants where I was never comfortable.  I wrote zesty holiday letters and agonized over selections of Christmas cards.  The postage stamps had to coordinate.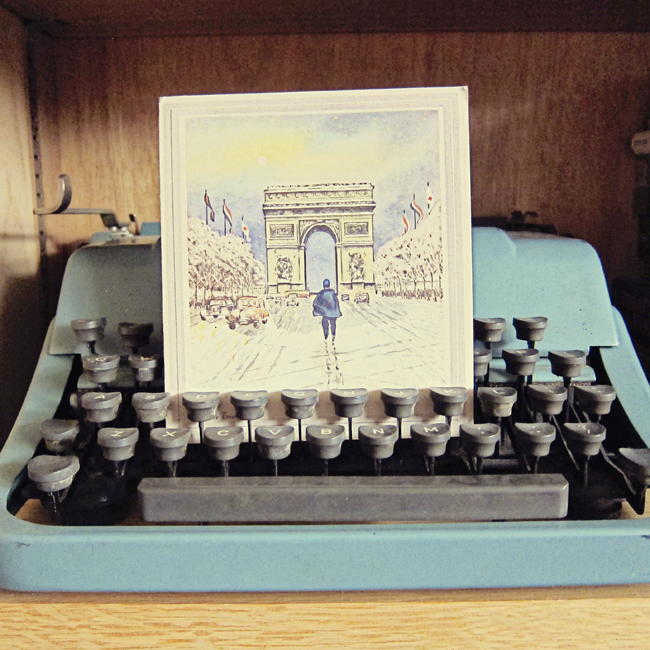 I created a schedule:  shopping done by Halloween, letter written before Thanksgiving, cards started on Thanksgiving evening, packages mailed by December 8, cards mailed by December 9, tree up December 10.  The check-list was less a tradition and more a set of marching orders.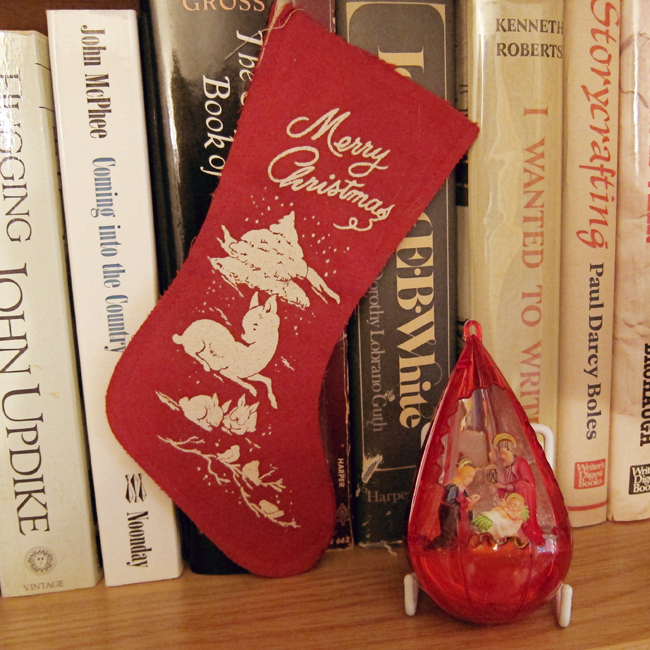 December 26, everything was put away except the tree.  No Southerner, even one as anal as I am, would tempt next year's fate by taking the tree down before New Year's Day.
We did "city" stuff, like attend The Nutcracker at the Kennedy Center and hear The Messiah by the National Symphony.  I wore velvet and diamond earrings.  I was thin back then and always cold.  Inside and out.
~ ~ ~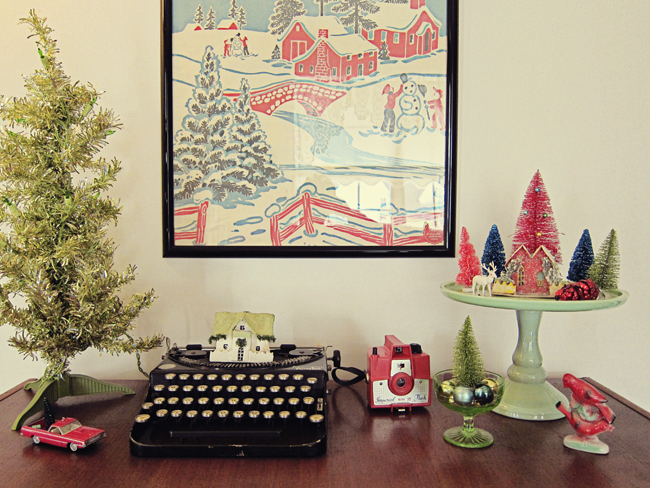 In my heart, I wanted to live in the country.  I wanted to cut our own Christmas tree and haul it back to our farmhouse in a red '55 Chevy truck.  I wanted to stay up on Christmas Eve and hear the animals speak at midnight and see angels.
I wanted to make peace with Christmas.
I wanted to go home.
~ ~ ~
After a while, I realized that the house I live in is home and I could keep fighting Christmas or reach a compromise.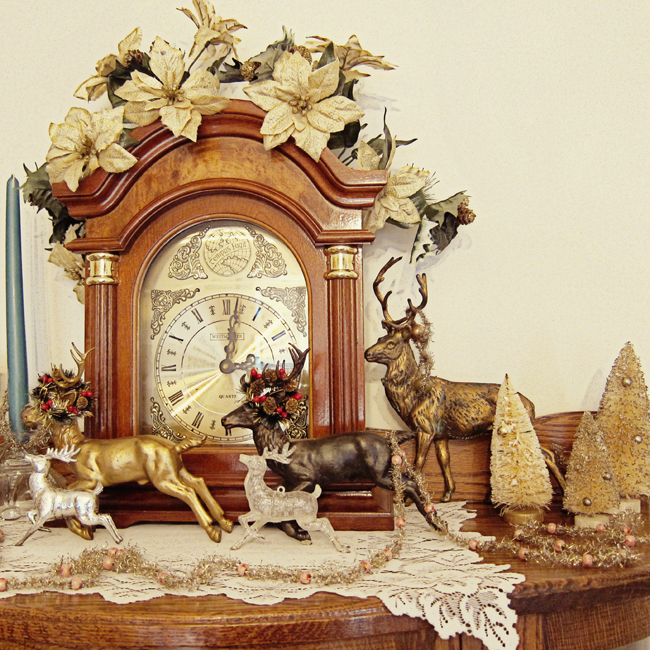 I let go of the schedule (mostly).  I cut my present list.  I choose the parts of Christmas that are important to me.  But I still make a huge decorating fuss.
Eventually I wound my way back to the old mercury-glass ornaments and my mother's mismatched reindeer.  Creating artful displays lets me feel like a window designer.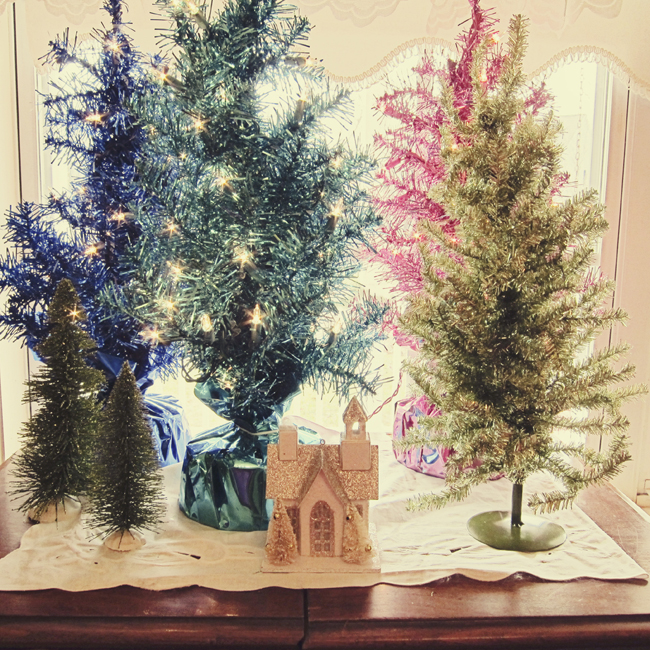 Yet I get tired and cranky, as many women do this time of year.  We're the ones who pull it off like a rabbit out of a hat.  For me, the stress of unattainable perfection weighs heavily and, in truth, no one gives a rip if the pink pre-lit tree clashes with the red pre-lit tree next to it.
For some reason, I feel Christmas gives me a chance to make right the failures and goals I didn't achieve the previous eleven months.  No one heaps those expectations on me.  I do it all by myself, just as that ten-year-old girl took on decorating the tree all by herself.
If I've learned anything this year, it's that I need to do less.  To be still and quiet.  To find a patch of woods.  To wait for the angels.  If I listen,  they might whisper to me again.
Save
Save
Save
Save
Save
Save