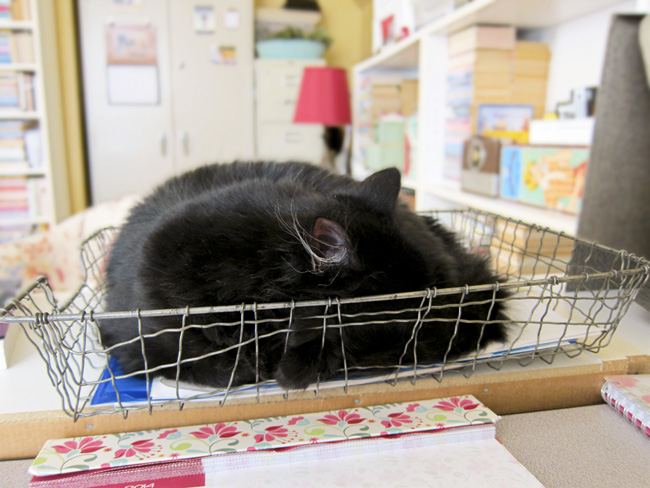 When we left off a few months ago, the kindly old man and woman who adopted Atticus were wondering when their "little kitten" would settle down.  The old man says the cat is calmer than he was.  There are actual whole minutes when the cat just sits.  However, the old woman, who stays with Atticus all the livelong day, knows better.
This is her office on a typical day.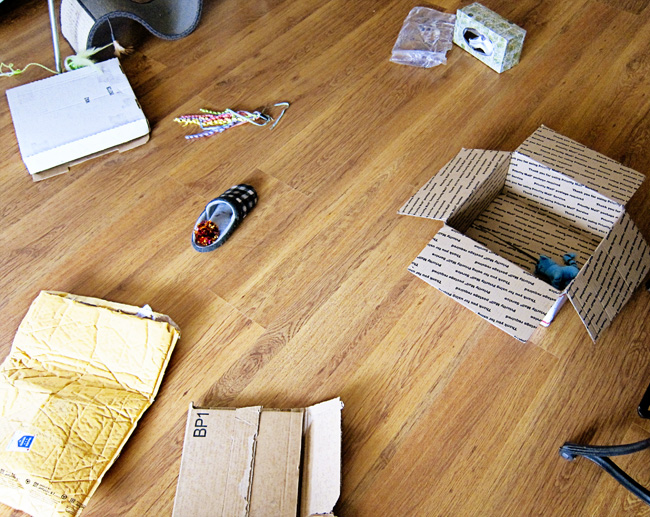 This is the innocent perpetrator.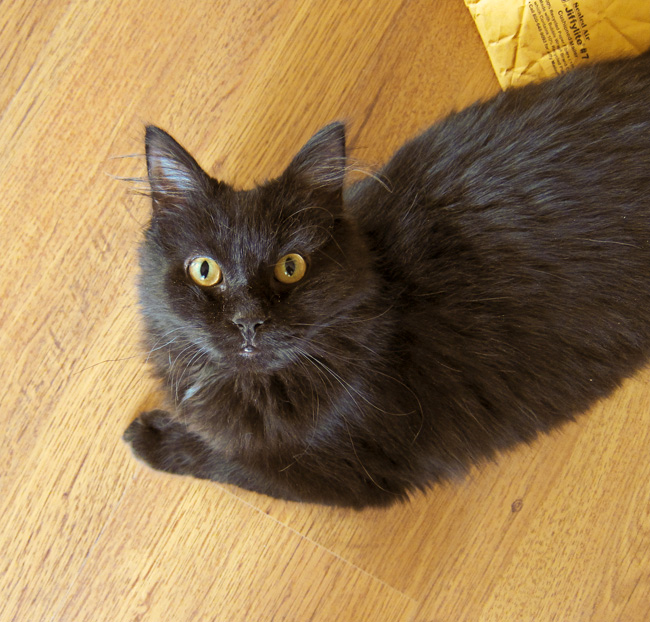 Atticus is a "carrier."  He carries things in his mouth, usually things that don't belong to him.  This Staples bag contained supplies when Atticus made off with it.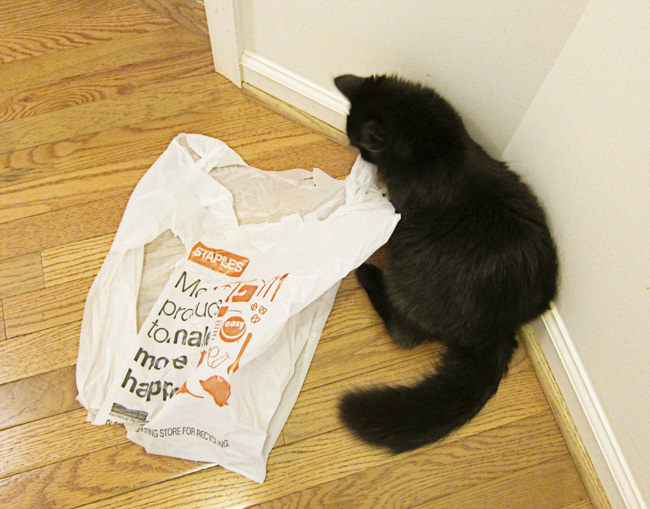 Once when the old woman was working in her office one evening, she heard odd noises coming up the stairs—the cat's usual stampede (he still doesn't walk) accompanied with a rattle, rattle, rattle.  He trotted into her office dragging a full-sized bag of popcorn (already popped).  He had stolen it off the kitchen counter, carried it through the downstairs rooms, up the stairs, down the hall, and into her office.  She figured he wanted her to open the popcorn and put a movie on for him.  His choice: "Aristocats."  Her choice: "That Darn Cat."
Actually Atticus has no problem opening things.  He hauled a bag of dried split peas off the counter, chewed a hole in the bag and ate some dried split peas.  He still eats anything not studded with spikes or marked with a skull and crossbones.  Oatmeal.  Russell Stover chocolate caramel eggs.  Scrambled eggs with hot sauce.  Lettuce.
And he still gets into everything.  Everything.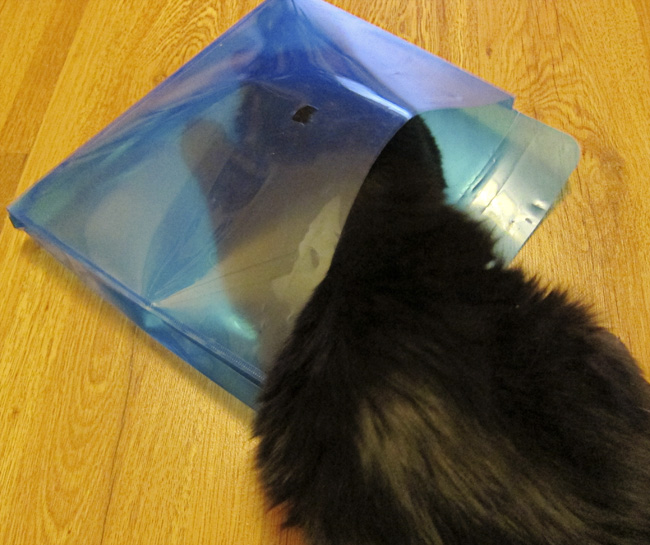 It wouldn't be so bad if he wasn't so mean.  He's so mean he can't stand his own self.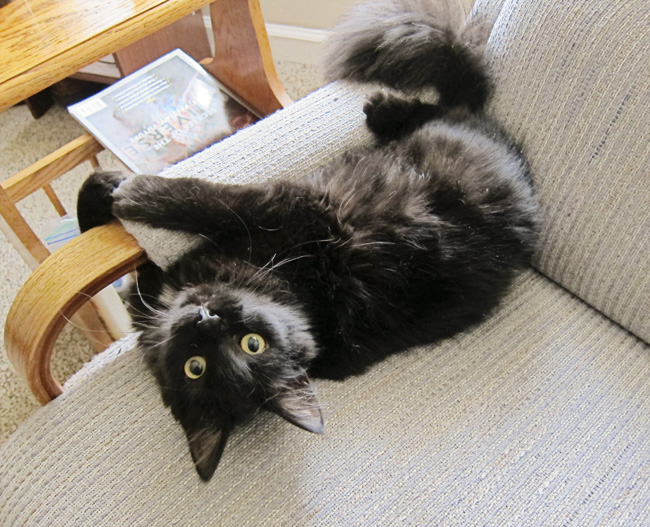 He's so mean he bites door hinges and faucets.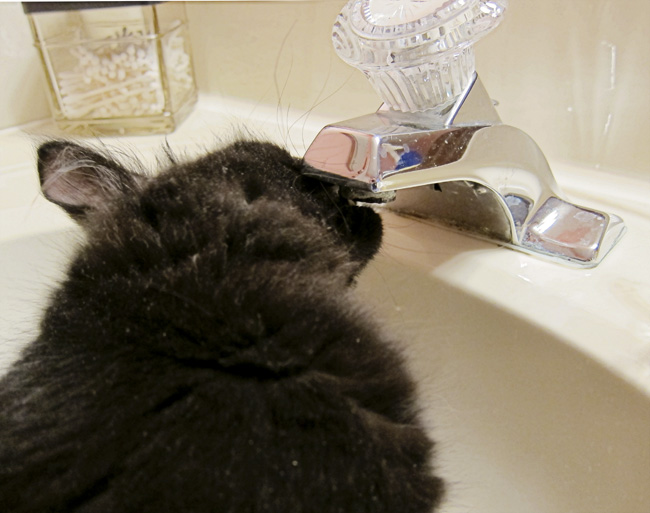 If meanness could be boxed it would look like this.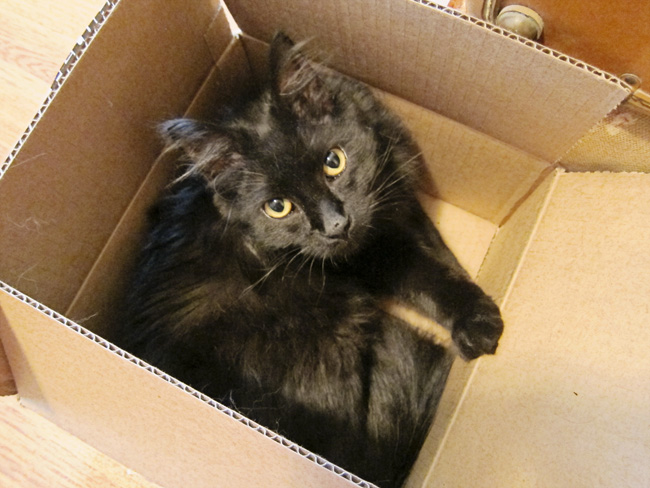 Atticus is also clever.  How many cats could yank off the tablecloth and leave the Sunday Washington Post still in its exact spot?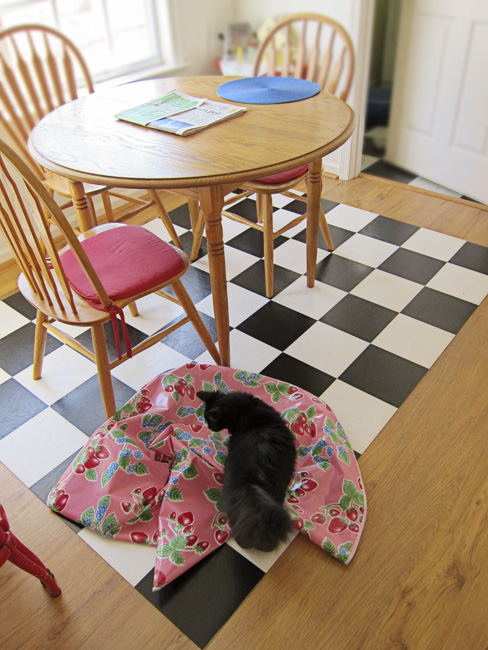 The old woman, who gets grayer and more wrinkled and shorter every day, is thinking of hiring him out as a magician's assistant.  Or sending him out to work on a garbage truck.
She misses the old days when he'd tucker himself out and slept a few winks.  The photo at the top of this post is dated December 9.  That's the ONLY time she and the kindly old man have ever seen the cat with his eyes closed.
He sleeps when they are out of the house (every chance they get–they fight over who goes to the grocery store).   One day the old woman will snap a picture of dozing Atticus.  She has a better chance of capturing a shot of the Loch Ness monster.  In fact, she'd gladly trade the Loch Ness monster for Atticus.  Nessie, at least, has settled down.