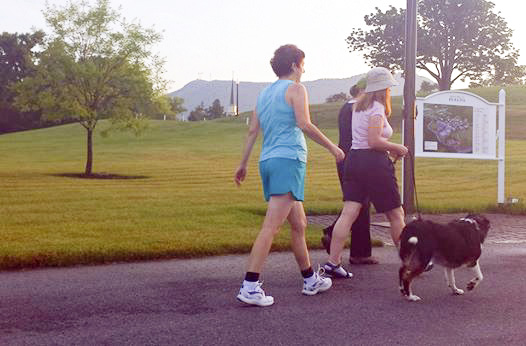 We were up at 6:00 nearly every morning and walking by 6:30. The Hollins Summer Walking Team–Claudia Mills, Elizabeth Dulemba, and me. We talked, logged in countless miles, and never failed to appreciate the scenery spread before us.
I'd come to Hollins this summer not only to teach and talk but to find the words again. Words had left me two and a half years ago, though I'd become adept at faking it.
Hollins is the perfect environment. For six weeks I'm free from the hunting and gathering of food and waste management (my definition of running a house). I'd get up, make my little bed, walk, wash my one bowl and glass and spoon and would have the rest of the day to teach and talk and read . . . and write.
Last summer I sat in my Hollins apartment and stared at my laptop screen. One afternoon I became completely frozen, literally unable to get up for hours. I called my husband in a panic. He told me to shut down my computer and keep it off except for business emails. That's what I did the rest of the term. And came home with nothing.
This summer it seemed like more of the same. A journal entry from early in the term:
I work all day but don't really write. My journals sit on tables and chests, pen on top, but I hardly ever open them. I need to write an essay for the photo website and I can't think of how to write about home. My last blog post was someone else's words.
Last night as I tried to sleep, I saw those kids in my head again. Small, dark, and distant. They run around playing on a bowl-shaped surface. Maybe a hill. I can't hear them and they won't come to me.
Mornings The Team would walk and talk. We saw yellow-crowned night herons standing like upended croquet mallets in Carvin Creek. Swallows capered across the sky, showing off, and muskrats foraged in the grass along the creek bank.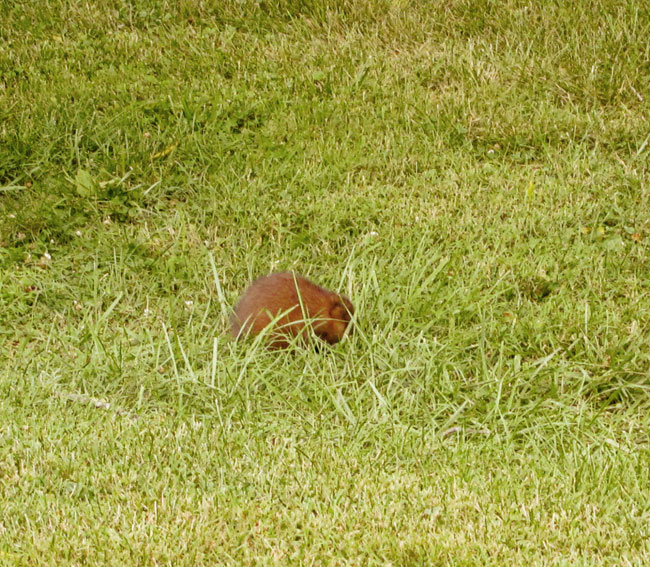 I also walked the campus loop alone to break loose blocked thoughts. Soon I stopped thinking and simply looked around me.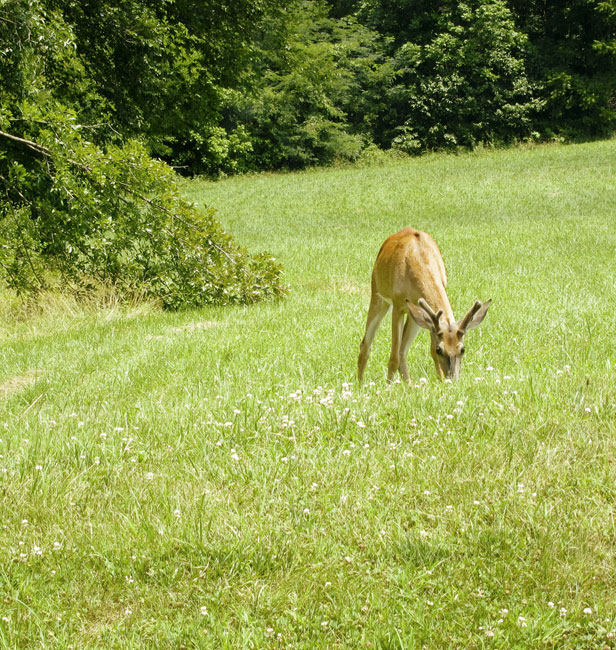 Deer were plentiful this year. Herds grazed in the middle of the day, watchful but unafraid. I followed the roller-coaster flights of bluebirds until I memorized their songs.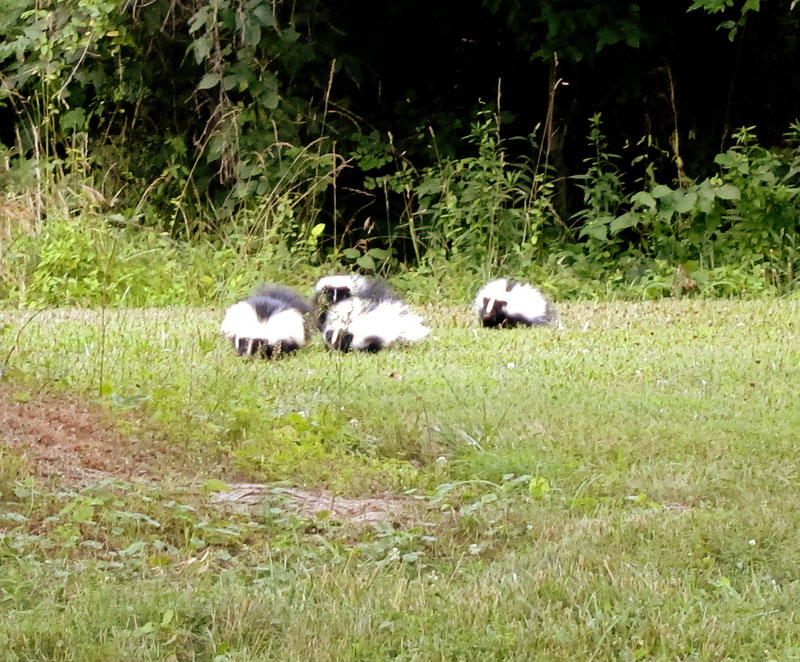 Then there were the skunks. Passels of them roamed the grounds at dusk. I was standing on the porch of the old parsonage early one evening when this posse stampeded straight for me. I jumped off the porch and snapped a quick, blurry photo. Did you know a group of skunks is called a surfeit? Even one skunk seems too many when you're wearing flip-flops and running down a very long hill.
This was the summer I fell in love with muskrats. I saw them swimming in Carvin Creek. I saw them feeding by the drainage ditches. I stepped in their bolt holes dug a few feet from the creek's edge.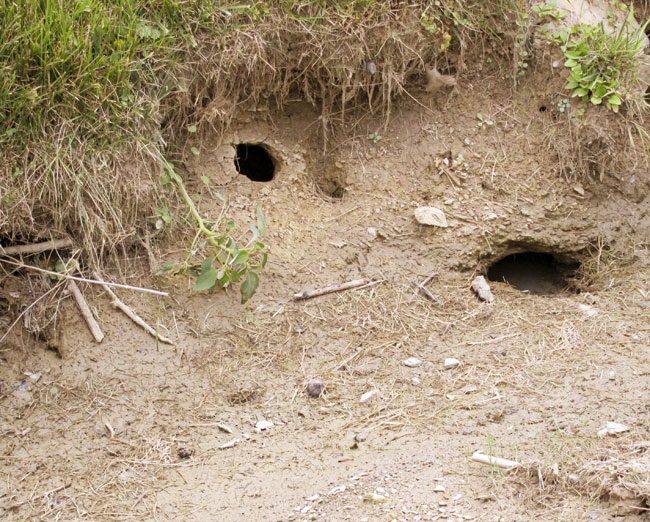 Muskrats are hinky creatures, skittering off the instant they spy humans, diving down the bolt hole and emerging beneath the bank. Their vertically flattened tails act as rudders, enabling quick getaways. The muskrats were a constant, reassuring presence. They went about their business without any fuss.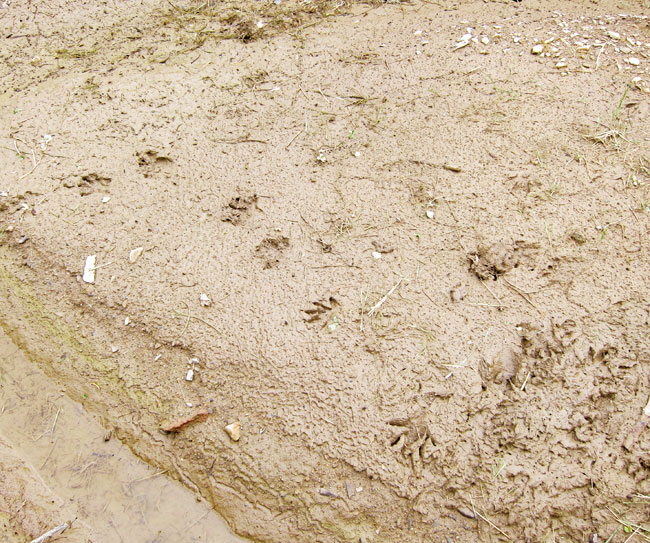 In her book A Field Guide to Getting Lost, Rebecca Solnit says:  What is the message that wild animals bring, the message that seems to say everything and nothing? What is this message that is wordless, that is nothing more or less than the animals themselves–that the world is wild, that life is unpredictable in its goodness and its danger, that the world is larger than your imagination?
I turned off my laptop and carried a notebook. I didn't open the notebook much, but carrying it made me feel better. I listened to the speakers our program sponsors every summer—writers, illustrators, scholars—and learned they went about their business without any fuss, too.
The best writing, Solnit says, appears like those animals, sudden, self-possessed, telling everything and nothing, words approaching wordlessness.
Two days before the end of the term, one of those dark, distant kids I kept seeing in my head turned to face me. She spoke. And I reached for my notebook.