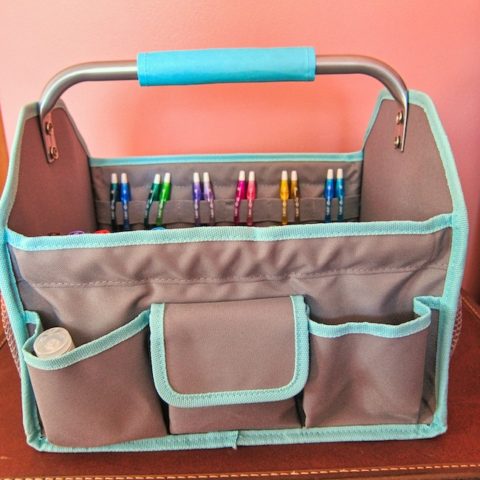 Over the years, I've often had a tote bag on the passenger seat of my little red truck that held a pen, notebook, and current reading book.  But cloth tote bags are too flimsy and usually become grungy. 
Then I bought a canvas garden tote from Cracker Barrel because it was sturdy, had several pockets (how we love pockets!), and was patterned in a navy and lime green floral.  I used it for a while as a portable office, but somehow it wound up in the back of a closet.
A few months ago, I found this craft tote at Michael's.  I was driving to a conference and suddenly needed an office to take with me (never mind I'd already packed a conference tote).  It's sturdy, has pockets galore, and can be wiped clean.  It was $41.99 but I had a 40% off coupon.  (It's now half-price.)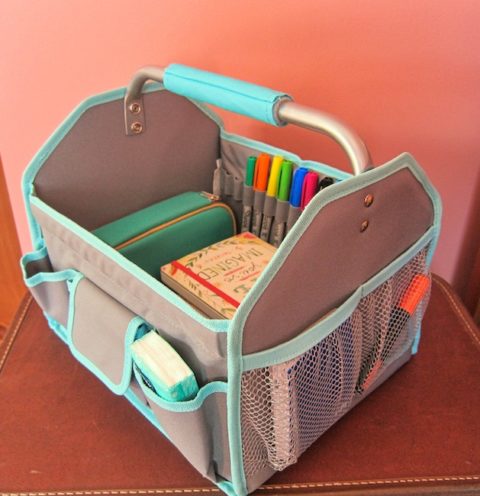 My next stop was Walmart (I tend to dawdle on the way to conferences).  I bought a set of Bic Gel-ocity colored pens and a set of Sharpie markers.  They fit nicely in the elastic loops inside the tote.  I added a sketchbook and stiff-backed notebooks.
Back home after the conference, I further outfitted the Truck Office with a calendar, a fancy pencil case for colored pencils, Post-Its, and other small supplies.  Also, my Canon S95 digital camera and a paperback nonfiction book.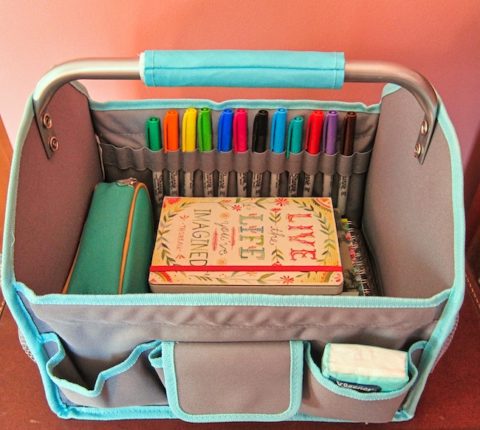 My Truck Office goes where I go.  I work in my truck before my exercise class starts.  I take it into the café at Barnes and Noble or the local library.  Why, you might be wondering, would anyone need to carry all this stuff when a laptop is far more convenient?  A few reasons.
One: My laptop is old and heavy, nothing like the sleek featherweight laptops most people use.  I keep my trusty HP laptop because it has Windows 7 (don't get me started on Windows 10) and a lifetime subscription to Microsoft Office.  It has never needed servicing.
Two:  I like tangible supplies.  Colored pencils and pens are pleasant to touch.  Just seeing the rainbow colors spurs creativity.  I'll look at the early morning sky, pale peach on the horizon, slate-blue just above, and draw swatches of those shades in the sketchbook.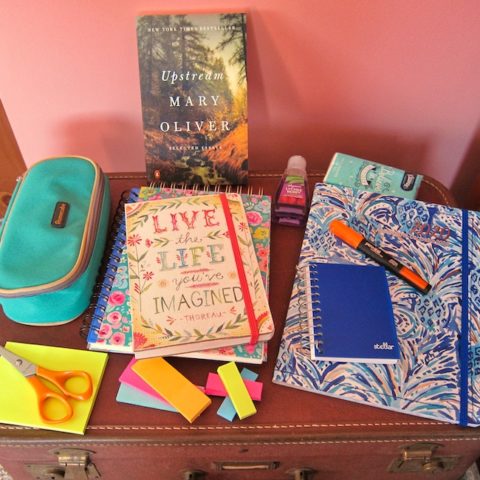 Three:  The books I slip into the tote are memoirs or natural history or essay collections.  My camera is ready when I want to record turkey vultures leaving their roost, all heading in the same direction, or a rusty pick-up with Daddy's Little Darlin's hand-lettered across the tailgate.  I download photos on my Mac, edit, and print them. 
Four:  Most important, I need a break from having a pane of tempered glass between me and the rest of the planet.  Often, we zip from screen to screen.  Many people look at their phone first thing in the morning, and their phone or laptop or TV screen last thing at night.   
The trusty portable office seems to chirp, "Let's go!" when I pick it up.  The sight of it next to me on the seat feels reassuring.  My little-used smartphone stays in my purse, sometimes not even turned on.  The craft tote doesn't distract me with push notifications or dinging texts.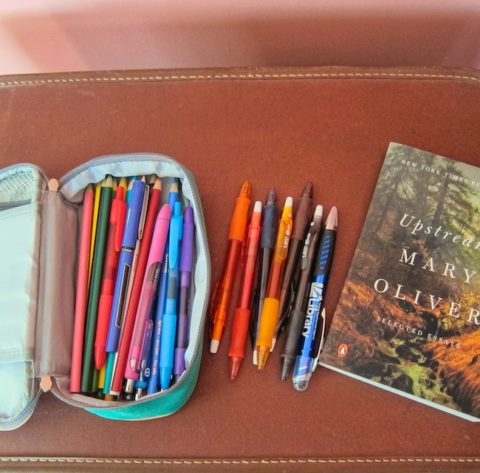 I know I look odd when I trundle the tote into Barnes and Noble or the library.  I see people hunched over their laptops, usually plugged into their phones, and they seem odd to me.  They don't look out the windows.  They don't leaf through a magazine before beginning work.  It's all business.
Away from my home computer, my work feels lighter.  I reach into the tote and choose a turquoise pen.  Then I open a notebook and wait to see what the turquoise pen wants to say.  So much better than being goaded by a pulsing cursor that demands the next letter, the next word, the next sentence.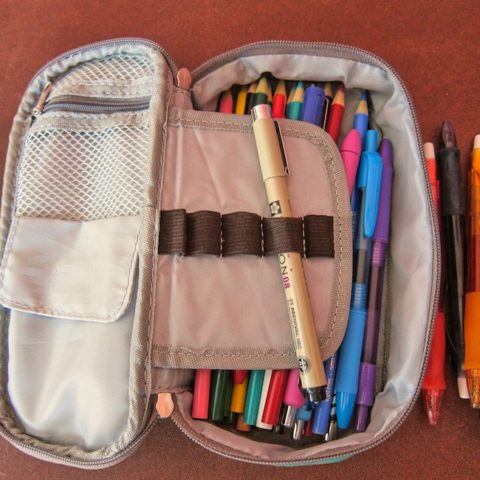 Note:  This blog post was written in my truck this morning, while I waited for exercise class to begin.