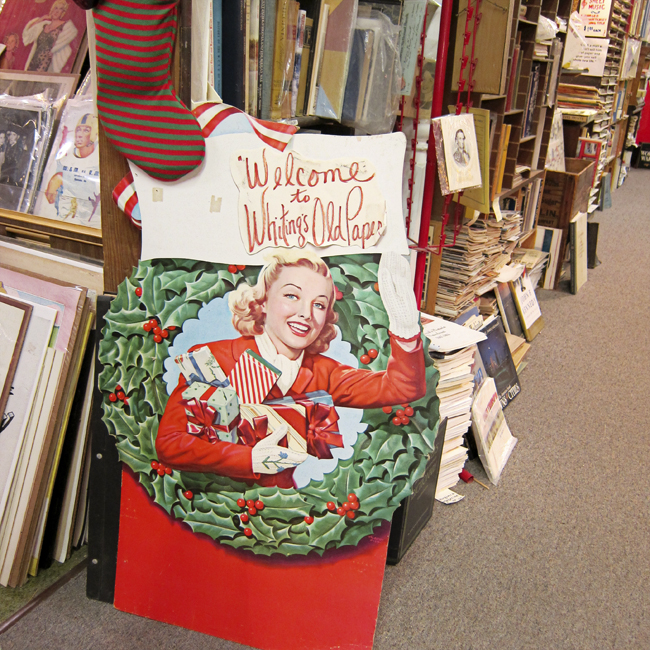 At the writing retreat in Luray a few weekends ago, participants wanted to know where I got the variety of ephemera I use in writing-related art projects.  "My Paper Man," I said.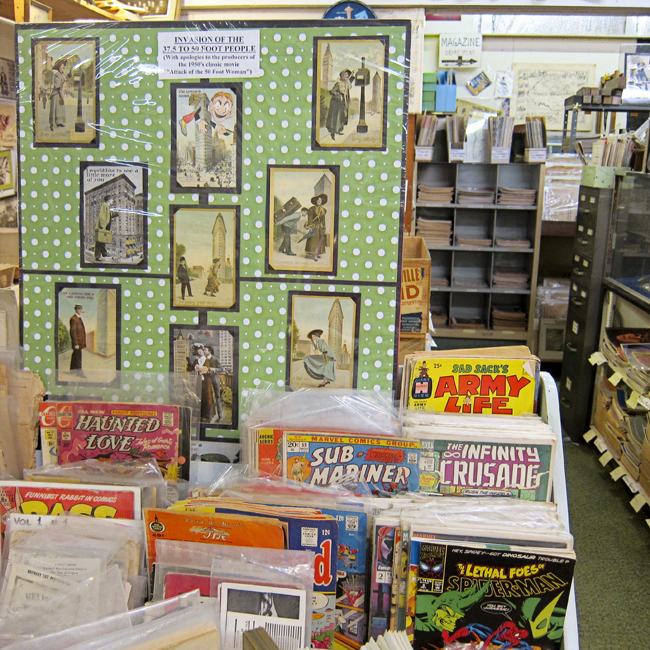 Since I've been collecting–well, anything, I've had a source.  Bottle Man, Postcard Man, Teddy Bear Woman, Depression Glass Man.  Right now the "man" in my life is John Whiting of Whiting's Old Paper.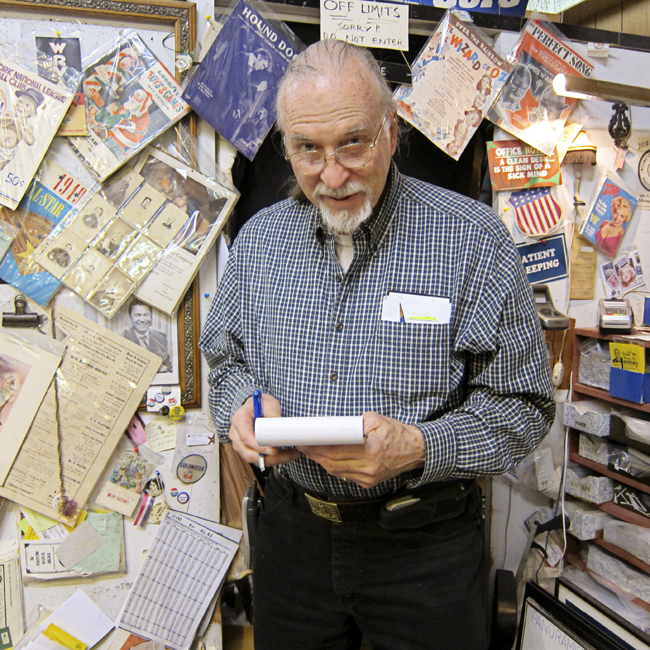 I stumbled on his shop in Antique Village north of Richmond several years ago and, in a way, have never left.  Thanks to John's business, I have more than a dozen suitcases crammed with ephemera.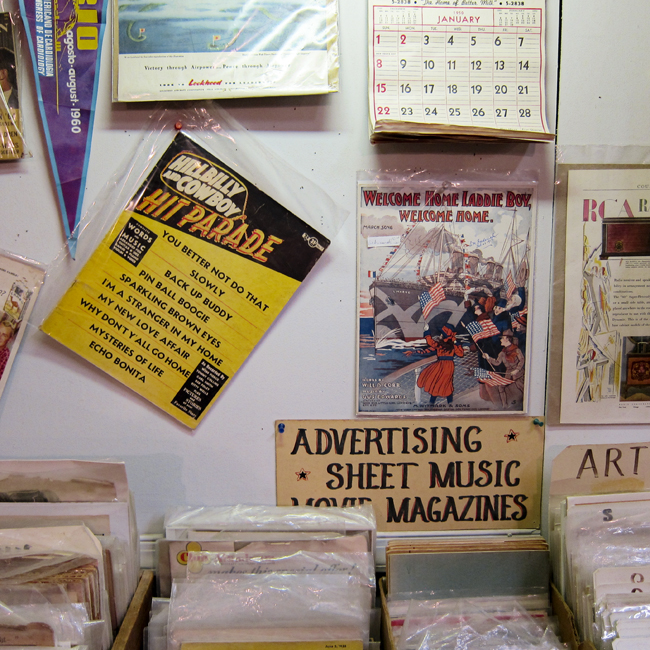 I've bought vintage photographs, magazines, catalogs, books, postcards, photo albums, calendars, maps, scrapbooks, greeting cards, comics, and all sorts of oddments like a jump rope that hangs in our breakfast nook and a 1930s hairnet (for the package graphics) framed and hanging in my sitting room.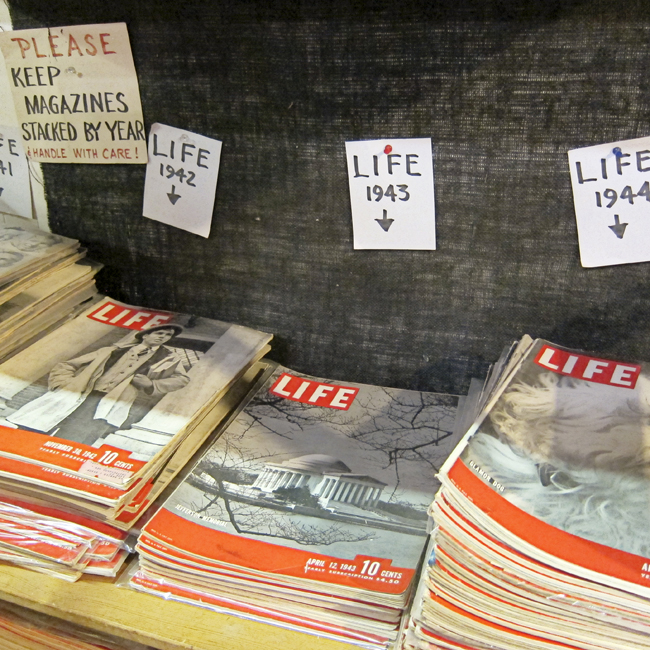 These National Geographics date back to 1916, but none with a whiff of the last 40 years.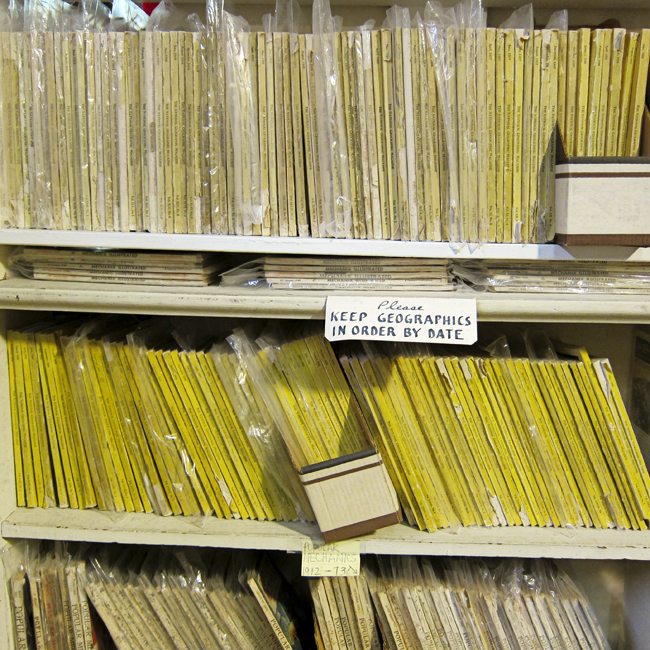 A rack of cabinet cards among piles and heaps of snapshots.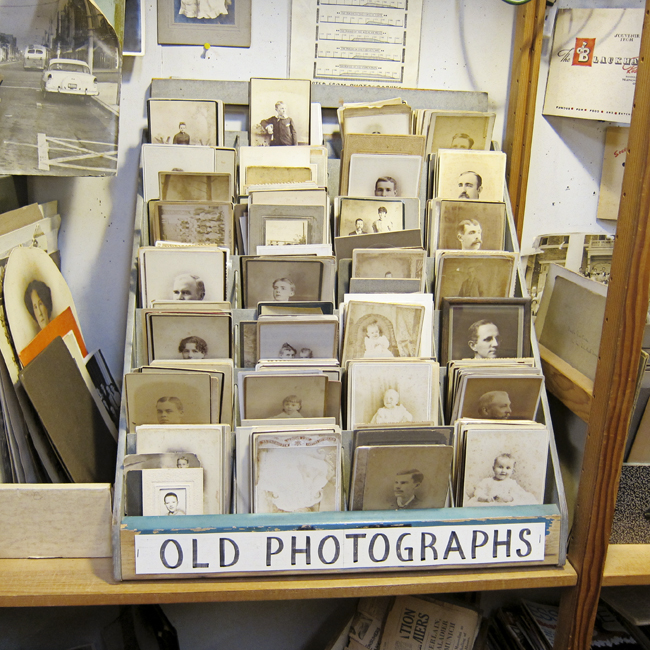 Some ephemera is categorized for collecting specialists, like Elvis fans.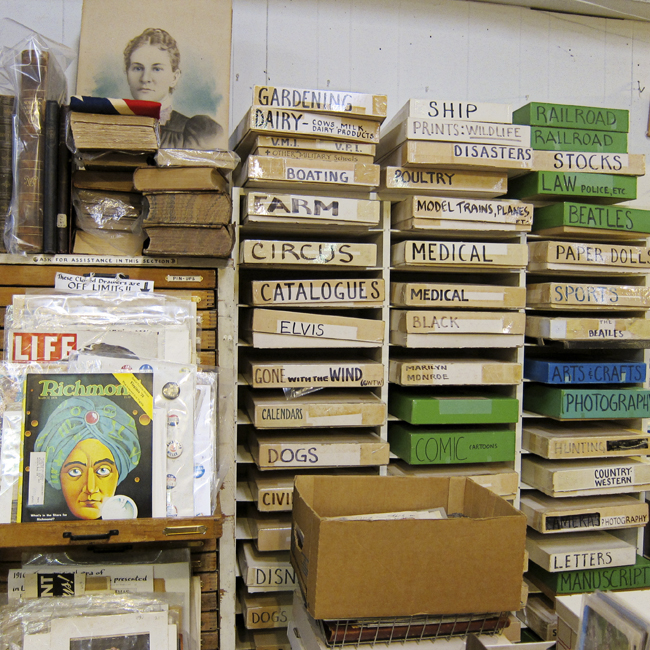 This isn't a place where you breeze in for one little thing.  You need to spend time and be prepared to dig.  Though John has everything organized, there's a LOT of paper, narrow aisles, and teetering piles.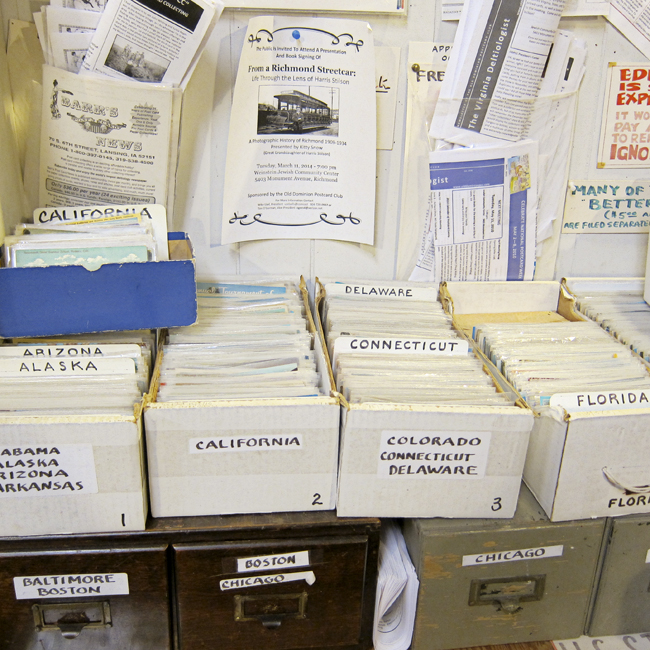 John's shop is on speed-dial for Hollywood props people.  The 200 Life magazines that papered the John Nash's shed in "A Beautiful Mind?"  From here.  Whiting's ephemera has been featured in many movies, including "Like Water for Elephants" and "Lincoln."  John provided maps for the latter movie, and earned a bit part as Lee's cartographer.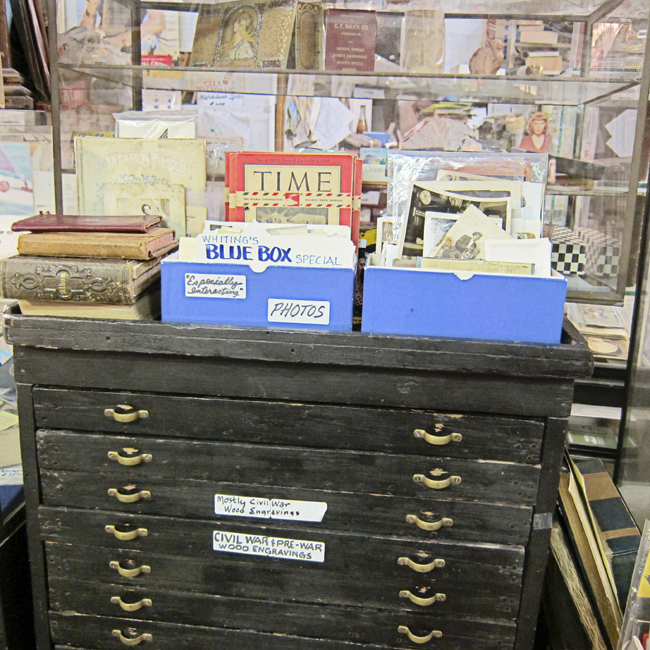 Those Time magazines above are small versions sent to the military during WWII.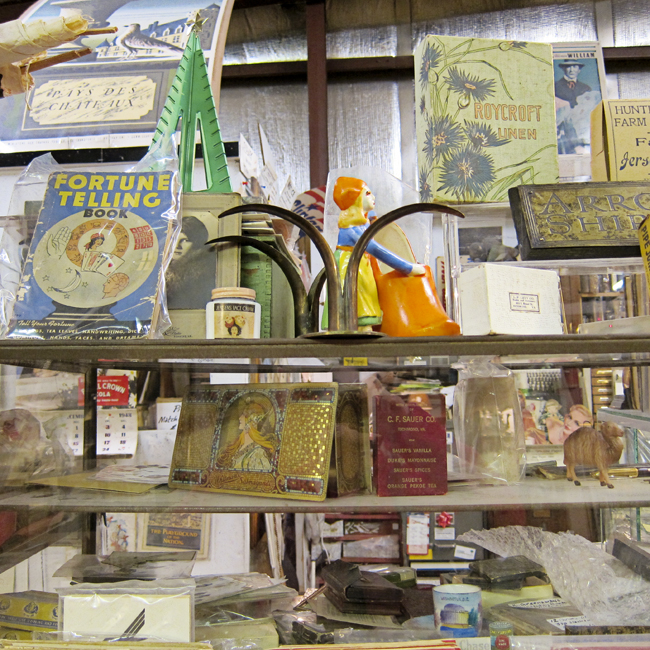 Today I didn't have "want" list, like going into a chocolate shop with no particular flavor in mind.  But lately I've been interested in photos from the 40s, 50s, and 60s.  I have a collection of vernacular snapshots stored in a vintage 45 record suitcase (natch).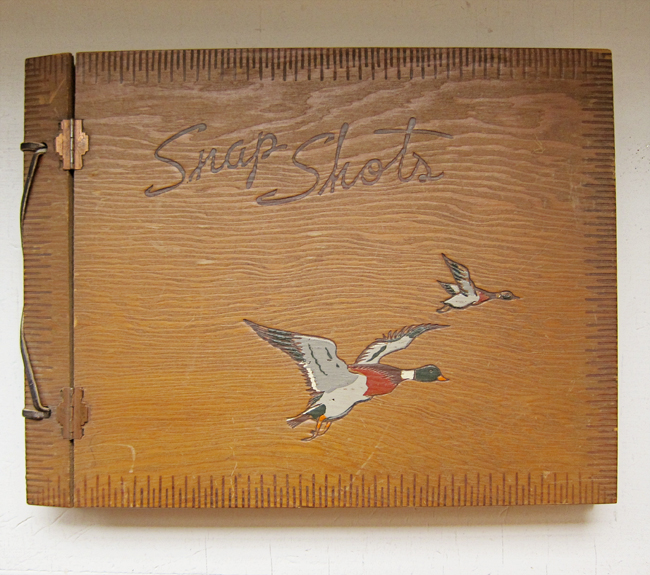 This beauty was just sitting there.  I've been searching for a wooden photograph album.  More than 100 pictures still in it (dealers often strip photos to sell separately).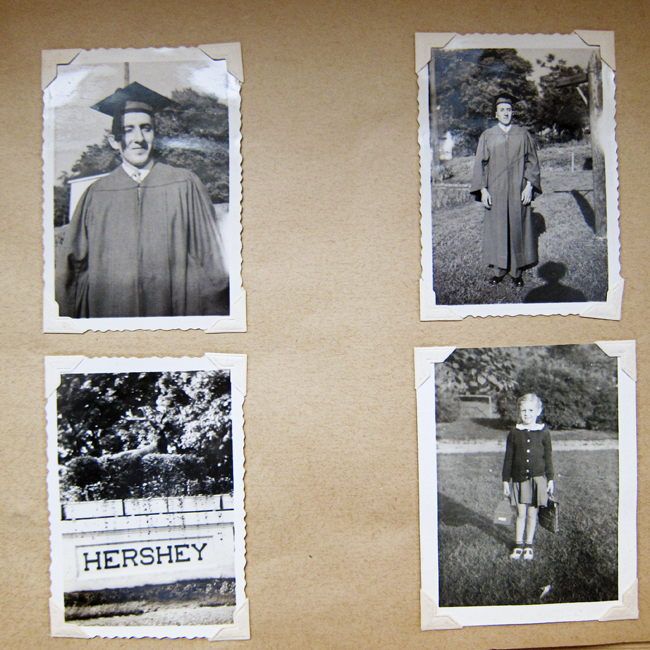 How could I not have the image of this little girl with book satchel and lunchbox, gazing so earnestly into the lens?