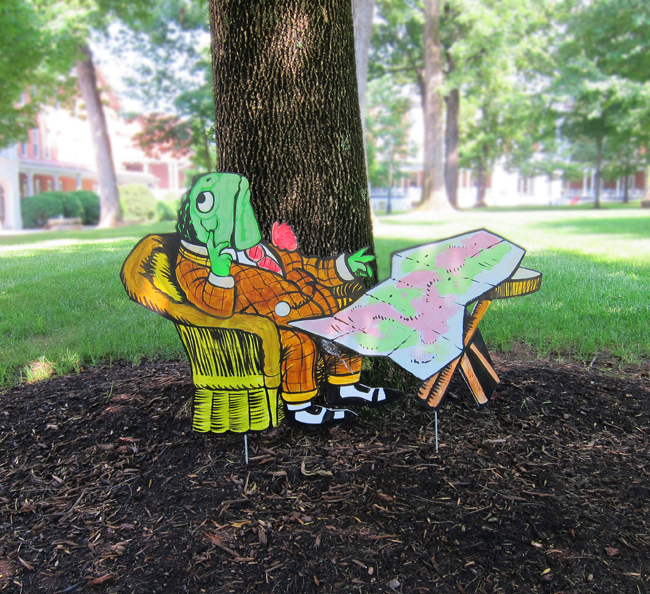 Saturday I jumped in the truck with a bottle of water and a 25-year-old Virginia topographical map.  Where I was going Mapquest, Garmins, and smartphones were useless.  I drove north on Route 11, then west on Route 220, then, after some miles, made a left onto a windy road that doglegged around Tinker Mountain, ran parallel to the Appalachian Trail and crossed three county lines, Botetourt, Roanoke, and Craig.  Soon there was only sky, mountains, and road in front of me.
My destination?  An old one-room church and its cemetery.  I'd found lists of forgotten cemeteries in Botetourt County, most of them transcribed from county records in the early 1990s.  I liked the names in this particular cemetery (the last person was laid to rest in 1941) and wanted to photograph the one-room church.  It had been ages since I'd taken a photo-jaunt.
I followed the vague directions: "2 miles from Lone Star Concrete Plant, west on Rt. 600, sits up on a hill reached by foot across the road."  The concrete plant is still there, with a different name.  Route 600 is clearly marked, though it's a hard right on a curve.
Then I was in a leafy green cathedral.  Pavement became gravel as the road narrowed and twisted.  I glimpsed silos just beyond the tree tunnel, but few driveways.  Typical Virginia back country–no place to turn around, no place to pull off.
It occurred to me the one-room church, if it hadn't already melted into the ground, was hidden from my view.  I could park in one of the driveways and scrabble around on foot, but it was already in the 90s.  The best time to explore alone is in January when the trees are bare and the snakes are hibernating.
Disappointed, I managed an awkward K-turn without sliding into a creek, and headed back.  A sign pointing to Haymakertown popped up and I went that way.
There was no town, only a scattering of eight or so brick ramblers braced against the mountainside.  The houses sat on three-acre lots, with tidy lawns, flowerbeds, and basketball hoops nailed to shade trees.  Instantly I fell in love with this tiny community backdropped by tremendous beauty.
I imagined everyone knew each other, helped shovel snow-blocked driveways, shared bumper crops of zucchini and tomatoes, watched out for children who missed the school bus, picked up extra gallons of milk for neighbors.  These people live off the grid.  Stores, banks, and schools aren't a hop, skip, and a jump away.  Trips to "civilization" are more deliberate and special.
As I passed the hamlet, I thought about how much time I fritter running errands.  Every day I have a to-do list:  buy cat litter (with two large, always-eating cats, we go through a lot of cat litter), drop off library books, stop by the pharmacy.  If I crammed all my errands in a single day, I'd be gone for hours, just tooling around.  If we didn't live in a town surrounded by stores and activities, I'd feel less pressured.  Have more time for work and play.
Short of moving to Haymakertown, I could pretend we live off the grid.  Ignore the siren call of the shops, tamp down the "need" to buy coffee because it's on sale.  It might work . . . until we run out of cat litter.