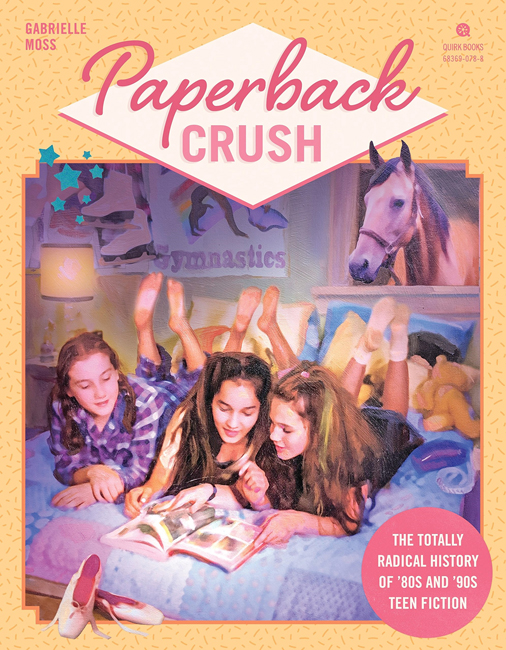 Once upon a time, I sold a million books.  Most of my books landed on bestseller lists.  Every Saturday was devoted to answering fan mail.  Readers figured out where I lived and came to my house.  What? you're thinking.  Not Candice Ransom, author of a lot of books, but who has hardly set the world of children's lit on fire.  Maybe not Candice Ransom.  But Candice F. Ransom, yes, indeed.
Since I was 15, I imagined my middle-grade novels on library shelves.  However, my first book, published by Scholastic, was for young adults.  The original paperback, with a photograph of a teenage girl on the cover, cost $1.95.  It was 1982, and I had caught the wave of teen fiction, a wonderful time chronicled by Gabrielle Moss in her book, Paperback Crush: The Totally Radical History of 80s and 90s Teen Fiction.
Gabrielle interviewed me and other "paperback writers" from that time period.  As the book jacket states: "These were not the serious issue novels of the 1970s, nor the blockbuster YA trilogies that arrived in the 2000s.  Nestled in between were the girl-centered teen books of the '80s and '90s—short, cheap, and utterly adored."
The attraction to these books?  By the 1980s, malls were everywhere and that's were kids hung out.  Chain bookstores like B. Dalton, Waldenbooks, and Brentano carried a huge selection of mass market paperbacks.  Kids used their allowance to buy an inexpensive book, read it in an afternoon, and trade with friends.  Series like Sweet Valley High hooked readers with spin-offs.
During the mid- to late-80s, I was best known for the Sunfire romances—a series of historical romances aimed at teen readers but judging from my fan mail were gobbled up by girls as young as ten—and also for my own series, the Kobie Roberts books and My Sister trilogy.  Scholastic Book Clubs ensured world-wide readership.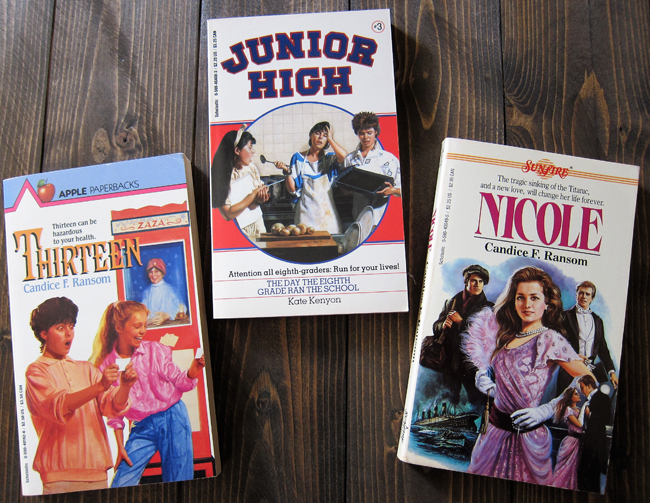 My path to publication wasn't at all what I'd envisioned when I was 15.  I was well beyond the goal I'd set in high school to be a "best-selling children's writer" by the time I was 25.  In Writer's Digest magazine, I found a listing from Ann Reit, editor at Scholastic, who was looking for romantic suspense for teens in the vein of Phyllis Whitney.  I wrote three chapters and a one-page outline.  Ann Reit called and offered me a contract.
I wrote the book nervous as possum in a slop bucket—Ann Reit would surely trap me as a fake.  Instead she noted I'd used authentic research and asked me to write the first title in a brand-new series of historical romances.  The first book would be set on the Oregon Trail.  I lived and breathed the Oregon Trail for months.  For the second book, I suggested the Civil War in Virginia—research I could get to more easily.  Amanda and Susannah became the launch titles for the Sunfire series.  And I was off to the races.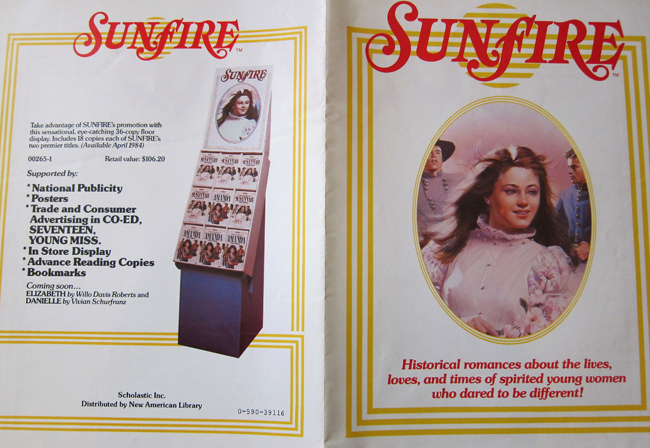 From 1982 until Ann Reit retired years later, I never lacked for work, often under contract for four to six books a year.  There were other series—Crystal Falls, Junior High, Dear Diary—that I wrote under a house pseudonym.  The Dear Diary pseudonym was Carrie Randall, created to be next to my books on bookstore shelves.  By then I was a regular on the B. Dalton and Waldenbooks bestseller lists.  I wrote my own series and many stand-alone middle grade titles.  At signings, I sat down to long lines.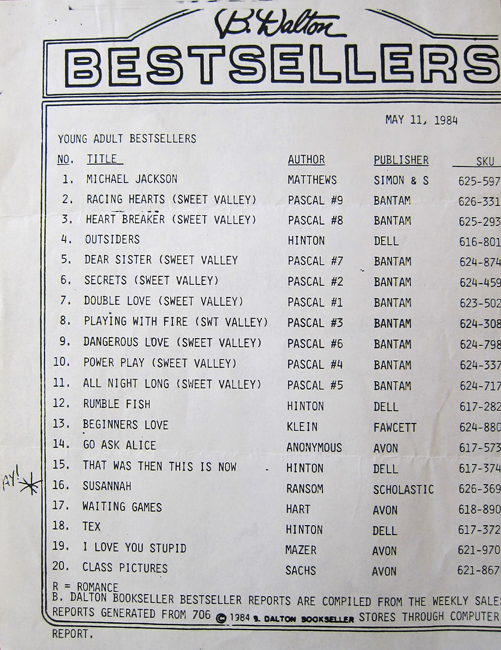 But . . . there was a downside to being a paperback writer.  Libraries were reluctant to carry the books.  They were flimsy, unless the covers were laminated.  For me personally, my biggest snub came from the revered children's only bookstore in Washington, D.C., Cheshire Cat.  I loved that store.  I attended many events, bought hundreds of books, but they never carried my books and I was never asked to do a signing, except as part of the Children's Book Guild of Washington, D.C. yearly group signing.
I thought those days would last forever, those busy paperback writing days, even after I moved on to writing hardcover books.  But times change.  Kids read less now, most of those lovely children's-only bookstores closed, along with all the rest of the bookstores, and Harry Potter raised the bar with incredible sales, movies, and theme parks.  How can a $1.95 paperback possibly compete?
Fans–even editors!–contact me often.  The Sunfire books were the topic of one young woman's PhD dissertation.  Gabrielle Moss wrote a serious—and gorgeously illustrated—book on paperback teen fiction.  An artist fan, now a good friend, made me a Kobie Roberts doll!  Another artist told me she became an artist because that's what Kobie wanted to be.  Most just want to say hi, to let me know how much they loved Nicole or Thirteen, to say they still have their old copies, or, best of all, to let me know they're introducing their own daughters to them.  You can't ask for better than that.