After last Tuesday's day-long downpour, I didn't see Scott and Zelda all day Wednesday.  Or Thursday.  After the rain it turned cold.  Too cold to lay eggs.  I checked the nest—it seemed fine.  But where were they?  They'd left.  I was sure of it.
Once, song sparrows nested in our front-door wreath.  The female laid four pale blue speckled eggs and then disappeared.  Granted, the front door wasn't the best place for a nursery.  But I'd taped off the entrance and snarled at anyone who put a toenail on our front porch.  Still, they left.  Heartbroken, I removed the nest and eggs. 
I decided, in my perverse way, that because I wanted a family of birds, I couldn't have it.  No, they'll nest under our neighbor's two-story deck like they did last year.  "Robins have got a nest there," my neighbor told me with an edge of disgust.
Friday afternoon, I went out to check the nest.  Zelda was in it!  Joy rose in my throat.  Zelda stood in the nest, picking the edge of it.  Was she eating it?  Then she stuck her head under the fake yellow tulips.  I'd read that robins typically lay when the nest was ready.  That they lay mid-morning, not at dawn like most birds.  That the female lays one egg a day.  That she doesn't start incubating until her clutch is complete.
Clearly Zelda is a first-time nester.  She hasn't read the book and doesn't know she's not supposed to stick her head under a bunch of fake tulips.  I hoped she'd get in gear soon.
Saturday we went out and I didn't think about the robins.  Hardly.  When we came back that afternoon, I checked the nest right away.  Two eggs!  But Zelda is supposed to lay one egg a day (it's much harder than you think).  I admired the size of them—the first brood of the year has the biggest eggs.  I didn't tell Zelda she'd have to build another nest and lay more eggs again . . . and possibly a third time.
Beautiful blue eggs for Easter.  How perfect.  Almost as perfect as my ninth birthday.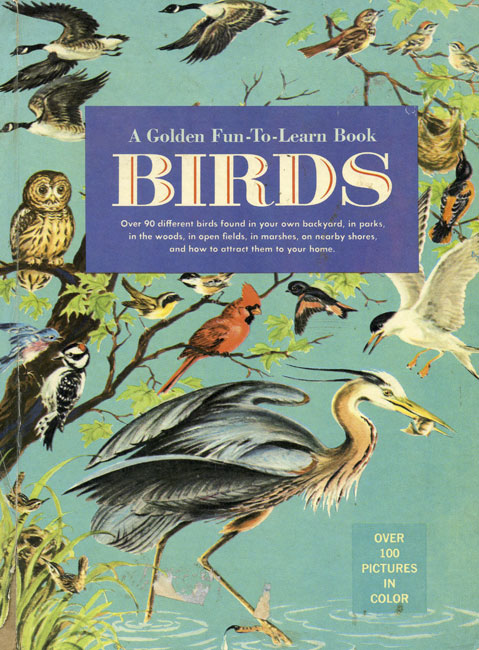 My birthday fell on a Monday in 1961.  The weekend before, I went with Mama to Grandaddy's and Grandma's.  They were both sick and old.  I hated their house with its dark woodwork and medicine smells, the creak of Grandma's wheelchair, her wild stare, Grandaddy's cough, the fact I had to be quiet.
That Saturday I was reading about whooping cranes in a library book.  Only 21 whooping cranes were in existence!  When Mama said she was going to the store for a few minutes, I was too engrossed in the plight of the whooping cranes to fret about being left alone with my grandparents.  I snicked chocolate drops from Grandaddy's secret stash in the dining room and wondered how I'd get to Texas to save the cranes.
When Mama came back, she set a paper bag from Drug Fair on the chair and checked on her parents.  I saw a book peeking out of the bag.  The Golden Fun-to-Learn Book of Birds had a beautiful blue-green cover and cost 59 cents.  I shivered with delight.  Mama bought me a bird book for my birthday!  I pretended I hadn't glimpsed the book, but spent the rest of the weekend wrapped the wonderful knowledge of it. 
I don't remember my birthday.  I'm sure we had homemade ice cream, probably lemon.  I don't remember my older sister being nervous and edgy, but she must have been.  I was newly nine and in love with birds. 
Three weeks later, my sister left home.  Left the nest first.  Left me. 
It took a long time to realize that her leaving wasn't personal.  At fifteen,  Pat eloped with her boyfriend.  My sister didn't have an instruction manual either.  Nest-building and family-raising came hard.  I didn't know any of that.  I only knew I was alone.  I felt like one of the last whooping cranes.  But birds—and books—saved me.
I don't know what happened to my Golden Fun-to-Learn Book of Birds.  Tossed out, I guess, or passed along to my niece.  Later I tried to find another copy but couldn't remember the title, only the color of the cover—blue-green.  I found The Golden Play Book of Bird Stamps (previous owner had rudely licked in every stamp).  I found Adventures with Birds (previous owner had played all the games).  I found the Whitman Big Guide, Birds Everywhere.  Those books seemed close, but not quite it.
A few years ago, my husband and I were browsing in an antique mall.  Downstairs in a back corner, I saw a book on the floor.  My heart stopped. There it was–The Golden Fun-to-Learn Book of Birds.  When I picked up the book, it seemed to vibrate in my hand, like a divining rod.  It was only $2.  I would have paid $50.
The last spring my sister was home, we dyed eggs for Easter.  We dunked our hard-boiled eggs in teacups with Paas tablets dissolved in water and vinegar, taking turns using the wire egg-dipper.  I always took my eggs out too soon.  They seemed just the right color bobbing in the teacup, but when I set them wetly in the punched-out holes in the cardboard box, my yellow seemed pallid, my purple too pale, my blue too tentative.
My sister had the knack.  She'd drop the eggs in one color and then another—blue and green—and leave them a good long time.  And that's how she created the most beautiful egg of all.  Robin's egg blue.  The color of my book cover.  The color of the eggs in the nest in the window box.  The color of our last spring at home together.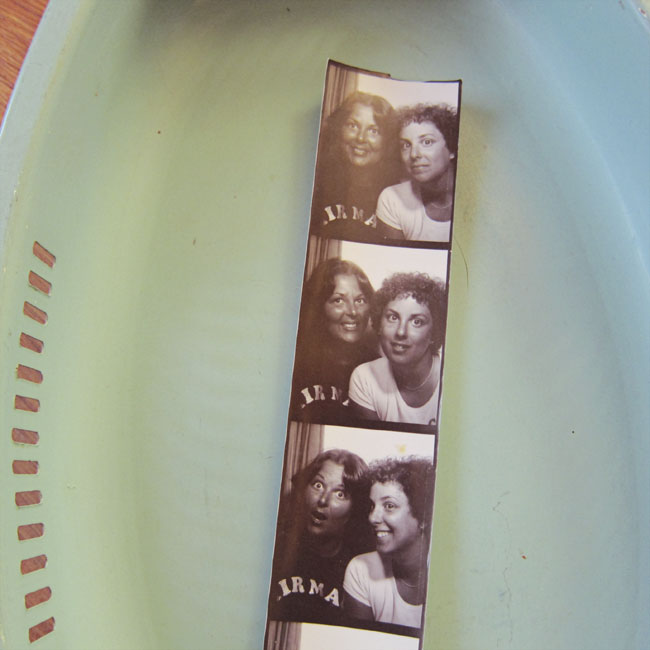 It has remained my favorite color my entire life.