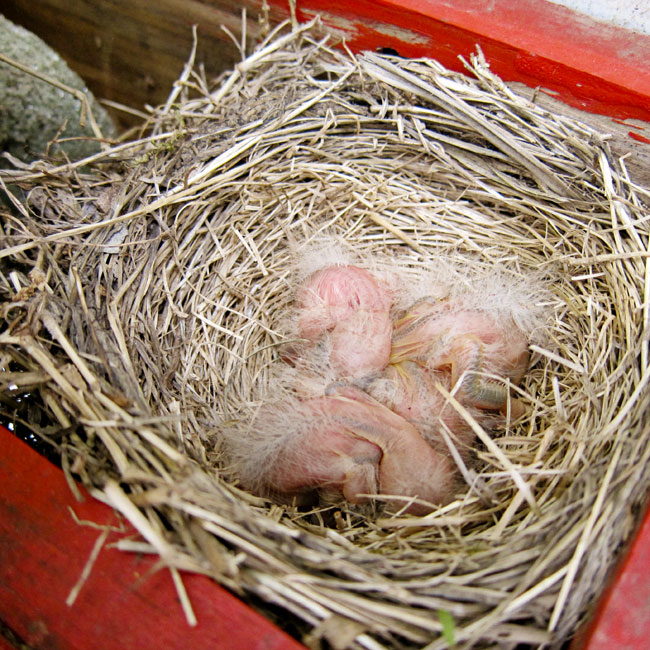 It is no picnic taking these pictures.  Scott, who has been on paternity leave the last two weeks, has suddenly taken over a major role.  Scaring off intruders!
The babies are growing fast.  Right now they sleep a lot, like most newborns, but are ready to eat whenever Scott or Zelda lands at their nest.  Watching the parents through the scope, I see them sort of break the food up before distributing it.  Maybe those little gullets can't have a whole worm stuffed down them?  Also, everybody poops.  The parents take away waste on every trip, which seems to be in little sacks.
So here they are:  Irene, Howard, Bill, and Esther.
At the top, Monday, May 5.  Note the long skinny neck pitched forward into the nest.  It takes a lot of energy for them to pick their heads up.
Tuesday, May 6.  I love their little yawping mouths.   When I approached the window box, I could see the tips of beaks waving around.  They are so cute!  If you look closely at the one with his beak turned up, and the one with his mouth open, you can see the slits in their eyes.  Soon they'll be gazing at the world.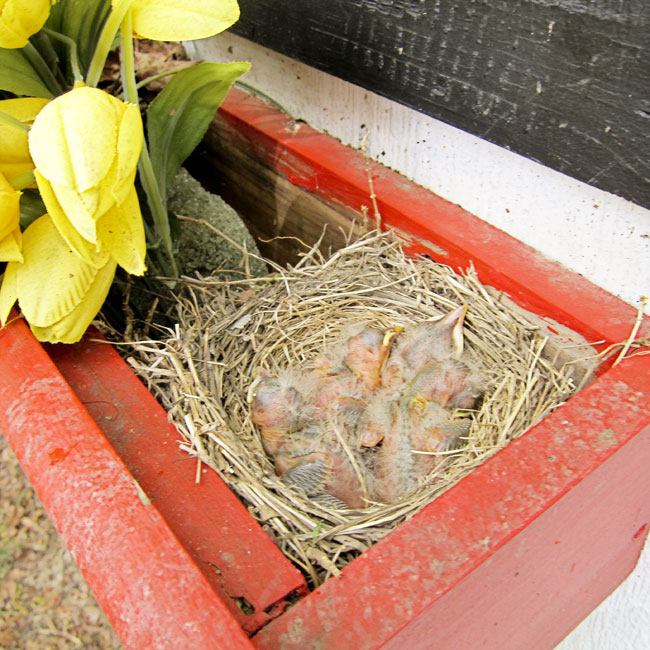 Wednesday, May 7.   Scott swooped down at me when I was trying to get a closer look.  I snapped one picture but it showed a bad case of camera shake.  My husband filled the birdbath and I let him run interference while I took another picture a little later.
Both times the nestlings were sleeping, even though they'd just been fed.  You can see the backbone of the one in the bottom left.  Their wings look a bit more defined.  It's not going to be easy to fix chicken any more.