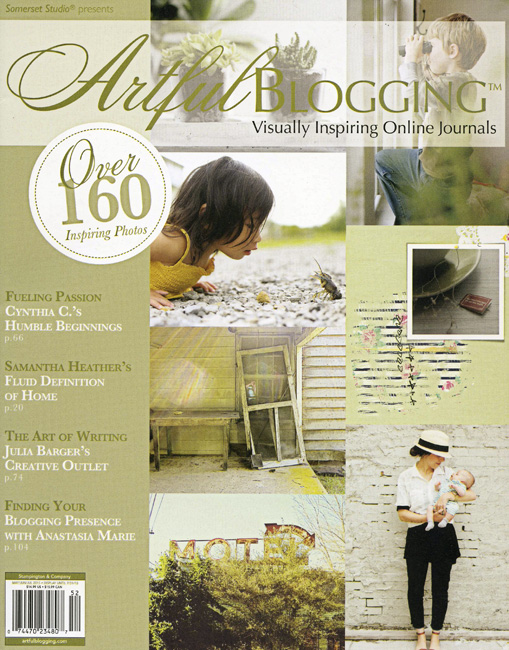 Sunday arrives and I remind myself, lugging a basket of laundry as dust mice scuttle ahead of me, Must post to blog.  On Sundays I often grocery shop, do laundry, vacuum, go out for lunch with my husband, and try to sort out the coming week.  Thinking of a pithy blog post is often at the bottom of my list.  Thinking of anything period is often at the bottom of my list.
That's why I sit myself down and do it.  If I didn't make myself think, yes, even on a weekend, even on Sunday, the day would be lost in dailyness.  This week I thought I'd simply put up the above photo and announce that I'm a contributor to the new issue of Artful Blogging.  Send up a flare, end of post.
Nope.  Not letting myself off the hook that easily.
It's true, my blog, a new essay, and my photos are featured in the Summer 2015 issue of Artful Blogging.  If you don't know this publication, it's an feast of photographs and essays by bloggers who are artists, photographers, craftspeople, cooks, mothers, travelers, anyone who maintains a creative blog.
I've followed this magazine since its inaugural issue in 2008, before I began this blog.  I drooled over the pictures, poured over the essays, spent time at the authors' blogs.  To say I'm gratified and flattered to be included is an understatement.  My work is bookended by photographers who do not use point and shoot cameras set on auto!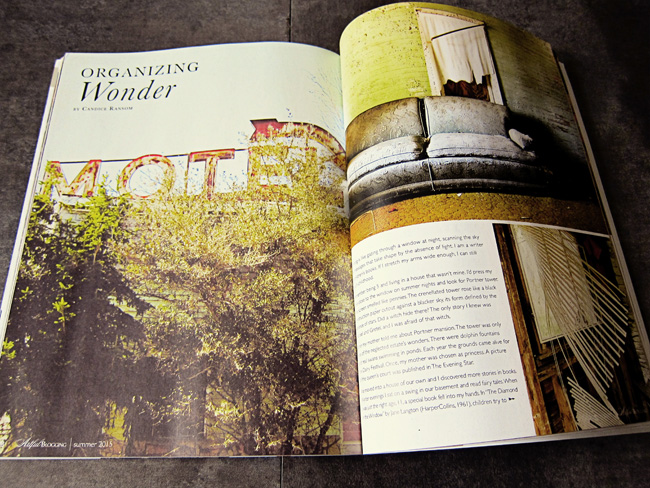 By studying the magazine and other people's blogs, I learned what makes an interesting photo and to include images that aren't simply a visual "break" in my narrative.  Several times I tried taking my photography to the next level.  I bought books, enrolled in online and face-to-face classes, hung around with Donna Hopkins, a true photographer.
I ventured out into the world with my little Canon Powershot (and sometimes my Nikon), snapping pictures of old houses and cars and junkyards.  National Geographic did not call.  Good thing, because my camera is still on auto.
While my photos have gotten marginally better, the purpose of my blog has not changed.  It's the place where I think and work things out.  I try to write shapely essays that anyone can relate to.  The best part of blogging is that I can create a post, put it up, and be done.  When you work on long-term projects, creating a blog post feels like a vacation.
My photography is stepping into my work-a-day writing.  I take pictures for those long-term projects and not just for research.  The camera has become another tool in my technique toolbox.  From other people's blogs (notably Donna's), I've noticed photo collages. These artfully arranged objects can serve as a sketchbook of sorts.
Instead of just thinking about what my character likes or has, I arrange objects that represent my character and photograph them.  As Donna told me, the very act of arranging—placing one object a half inch to the right and another a hair to the left—feels very zen.  More importantly, arranging a composition gives me time to consider my character in a tangible sense.
Often when we create characters, we assign background information—color of hair, height, favorite flavor of ice cream, etc.  Sometimes arbitrarily: my character loves blue and hates Brussels sprouts.  Does she really?  Or do we love the color blue and hate Brussels sprouts and transfer those likes and dislikes automatically?
By physically gathering things and then arranging them, the position of and space around the object holds weight.  These are the items that matter to your character, in this particular way.  I take the photograph of the collage and print it as part of my background notes.  My character comes to life more organically.
I'll continue to blog because I enjoy writing journal entries from my little corner of the world.  And I'll continue to take photos because it goes back into my work.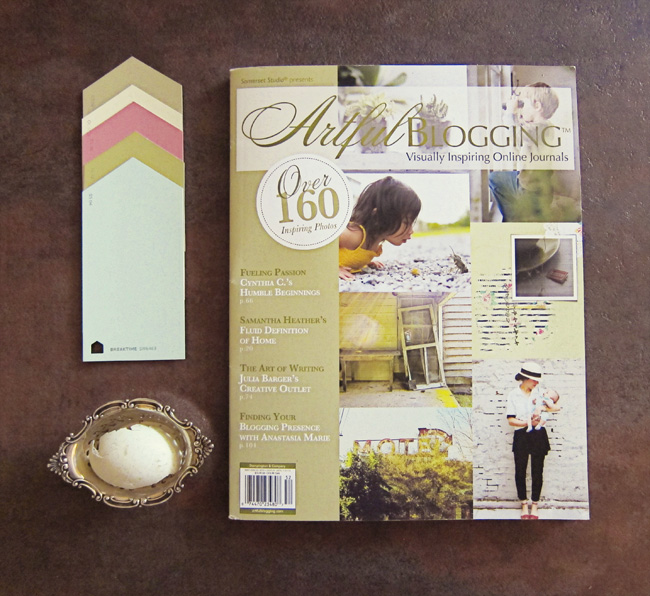 Yet for the next three months, I'll be able to walk into a Barnes and Noble anywhere and pick up Artful Blogging.  I might even tell the person standing next to me that not only is my work included in the magazine, but two of my photos are featured on the cover.
For the next three months, I'll feel like Dorothea Lange.